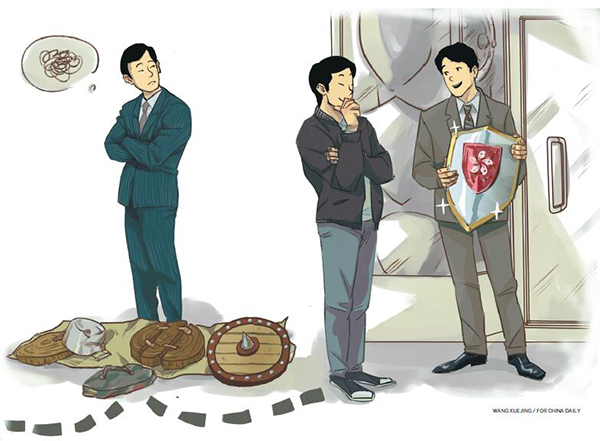 New controls on capital movement are set to make it harder for mainlanders to purchase new policies in the city, which could sound alarm bells for the booming market.
In recent years, customers from the mainland have been flocking to Hong Kong to buy insurance products, making the city one of the world's leading insurance markets.
Now, though, many insurance agents are concerned that new capital controls could threaten the market's continued prosperity. Last week, the central government tightened the regulations that govern how mainland citizens buy insurance products in Hong Kong. The move came just a month after the nation's currency regulator capped payments made through UnionPay, the mainland's dominant payment system, at $5,000 per transaction.
In addition, mainland customers will no longer be able to pay for life insurance or investment-related products through electronic payment services, although they will still be allowed to buy medical and accident insurance, albeit with a purchase cap of 30,000 yuan ($4,600).
Industry insiders regard the new measures as a way of limiting cash outflows. Before the new regulations, payments for insurance products outside the mainland had been exempt from the annual $50,000 limit on individuals sending money overseas.
Iris Pang, senior Greater China economist at the investment bank Natixis, said mainland customers have been the driving force behind the city's insurance boom in recent years, so many people in the industry are concerned about the impact on the local insurance market.
Policies surge
The Hong Kong Office of the Commissioner of Insurance said spending on policies by mainland visitors has surged dramatically in the past six years; from HK$ 4.4 billion ($567 million) in 2010 to HK$21.1 billion through September last year. In 2014, spending surged by 64 percent.
Before the new restrictions came into force, mainlanders bought insurance as a tracker for asset allocation, according to "Huang", an insurance agent with Prudential, a UK insurance company based in Hong Kong, who asked not to be identified.
"The returns on savings-type life insurance policies, which are not subject to purchase restrictions, are usually at least 2 to 3 percent higher than those of bank savings," he said, adding that for the past 10 years the average return for Hong Kong insurance products has been 5 to 9 percent.
While the new restrictions will make it harder for mainland customers to buy insurance policies from insurers in Hong Kong-customers have to pay-via creditcard or cash, Huang believes the new restrictions will not lead to a decline, at not least in the short term.
"The 30,000-yuan-cap doesn't affect us all that much because many customers are interested in products below that limit," he said. "They are simply looking for certain types of insurance products, such as medical insurance, which are not subject to the purchase controls imposed on mainlanders."