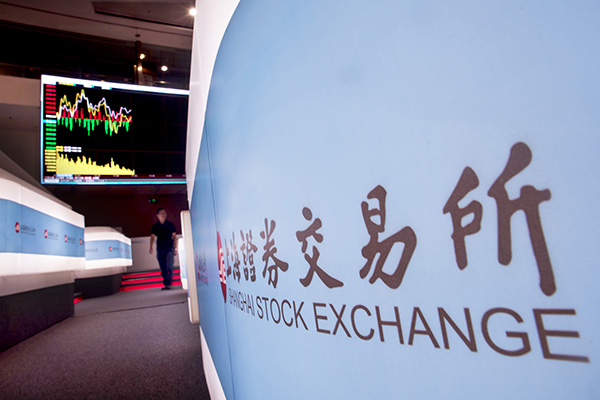 A man walks on the trading floor at the Shanghai Stock Exchange in the Lujiazui financial district in Shanghai in 2015. [Photo/Agencies]
Speculation grows that plans might now be abandoned altogether
Plans to create a strategic emerging industries board on the Shanghai Stock Exchange have been left in considerable doubt, after a mention of its possible launch was removed from a draft outline of the country's 13th Five-Year Plan (2016-20).
A circular explaining revisions to the draft said the content concerning the board was canceled based on the view of the China Securities Regulatory Commission.
Regulators and other government bodies made no formal announcements regarding the change, but the revelation sparked speculation on Wednesday that the plans might now be abandoned altogether, with some analysts blaming the recent volatility in the stock market.
In recent months, officials from the Shanghai Stock Exchange, including its Chairman Gui Minjie, had insisted the launch had been making "sound progress".
Fang Xinghai, the vice-chairman of the CSRC said in December that Shanghai must launch it this year.
The board's creation has become widely regarded as an important new financing channel for the country's small and innovative enterprises, and a listing destination for more than 30 Chinese technology, media and telecom companies seeking to delist overseas, and re-list at home.
It was also expected to become a test ground for the planned new registration-based initial public offerings mechanism, according to previous circulars from the CSRC.
A research note from Minsheng Securities Co Ltd has claimed that as many as 380 enterprises have already met the requirements, and may be eying a listing.
If the plans to launch were to be shelved, those companies would now have to seek alternative routes to access capital markets, meaning shell entities could become popular targets as avenues for backdoor listings.
News of the omission immediately led to heated market speculation on the board's future.
Caixin.com said on Tuesday evening that it will not now be created, as it was not included in the draft, quoting "authorities".
But other analysts interpreted the exclusion as meaning the plans had not yet met regulatory requirements, and the launch had simply been delayed until a later date.
Sun Jianbo, a strategist with Galaxy Securities Ltd, said if the board was launched, its functions may even overlap with other existing funding platforms and even confuse companies and investors.
Fang Xinghai, the CSRC's vice-chairman, did say on Tuesday that it is still expected the Shenzhen-Hong Kong Stock Connection will be launched in the second half of 2016, and that the authorities were also conducting feasibility studies over a Shanghai-London stock connection.
The benchmark Shanghai Composite Index edged ahead 0.21 percent to 2,870.43 points on Wednesday, while Shenzhen Component Index lost 1.1 percent to 9,467.03.
Analysts said as more details on improving social well-being were introduced, stocks in sectors related to education, medical services and consumption are likely to benefit.