E-commerce in rural areas
After last November's guideline issued by the nation's State Council General Office to promote the development of e-business in rural areas, a series of policies will be put into practice to drive development in the sector.
In the Government Work Report, Premier Li Keqiang pointed out that the government "will press ahead with the nationwide project to deliver telecoms, radio, television, and Internet service over a single broadband connection, accelerate the development of fiber-optic networks, significantly increase broadband speeds, develop logistics and express delivery services, and ensure that new forms of Internet-based spending, which combine online-offline activities, come to thrive."
According to Li, the country will also deepen logistics reform and strengthen the building of modern logistics facilities such as large-scale wholesale storage, and cold chain facilities for agricultural produce, and work to achieve major reductions in logistics costs.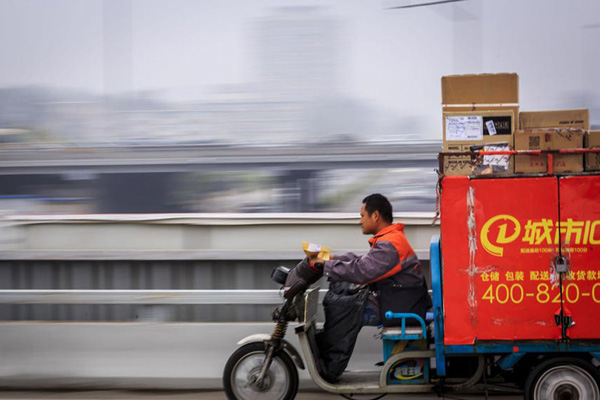 A courier en route to deliver packages in Beiing, Oct 11, 2014. [Photo/IC]