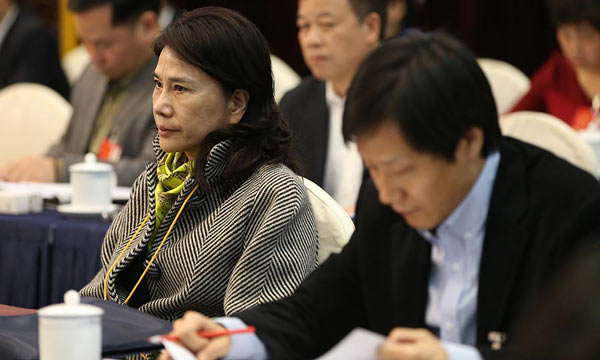 NPC deputy Dong Mingzhu (left), president of Gree Electric Appliances Inc, attends China's annual legislative and political advisory sessions held in Beijing, March 5, 2016.[Photo/CFP]
Gree's second-generation smartphone will be launched within one or two months, said Shanghai-based online news portal thepaper.cn, quoting Huang Hui, vice-president and chief engineer of Chinese home appliances maker Gree Electric Appliances Inc.
"The new phone is expected to be equipped with US chip maker Qualcomm's Snapdragon 820 chip," said Huang on Wednesday during the ongoing Appliance and Electronics World Expo held through March 9-12 in Shanghai.
According to Hua, the beltline of Gree's phone is rebuilt from the company's existing home appliances' production line.
Dong Mingzhu, NPC deputy and president of Gree, told media on March 4 that the brand's next generation smartphone will be more suitable for young users.
Gree launched its first smartphone, part of its strategy to enter the smart home market and the Internet of Things sphere, in June last year.
"Our first phone has gained two key official licenses," Dong said. "Customers can use Gree phones to control wirelessly connected household appliances, such as refrigerators, ovens and televisions, making their lives more convenient."
However, the phone has not been able to make inroads into the market due to insufficient production capacity, according to thepaper.cn.
"The phone is being sold to Gree's employees and distributors and a certain discount will be offered to the buyers," added the news portal.
According to media reports, Dong discussed with Lei Jun, founder and CEO of Xiaomi Corp, about the industry market during the opening ceremony of the 12th Chinese People's Political Consultative Conference held on March 3. Both of them are delegates to the 12th National People's Congress. Lei gave his compliments to Gree's smartphone, according to the reports.
According to China Daily, in the first three quarters of 2015, Gree's revenue plunged more than 17 percent year-on-year to 81.5 billion yuan ($12.5 billion) due to overcapacity and weakening demand.
As dwindling air-conditioner sales weigh on revenue and profitability, the company announced on last Sunday to issue new shares to buy Zhuhai Yinlong New Energy Co, a sign of the firm to branch into new-energy vehicles sector.
The company did not disclose what stake it would take in Zhuhai Yinlong or the possible investment value. A spokesman for Gree said details are still under discussions.
Zhuhai Yinlong, controlling shareholder in Altair Nanotechnologies Inc, a Nevada-based lithium battery company, was China's seventh-largest seller of electric buses in 2015, after racking up 7,000 orders and producing more than 3,100 electric vehicles, data from its official website show.