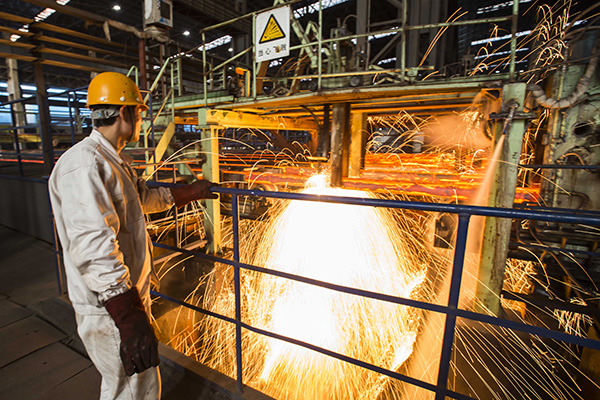 A worker at a steel company in Lianyungang, Jiangsu province, in January 2015. The steel sector will reduce capacity by 100 to 150 million metric tons in five years, according to China's top economic planner. [Photo/China Daily]
As steel price shows signs of recovery, some private factories in Hebei province resume production for lack of knowing what else to do.
"Government has offered subsidies to help steelmakers reduce capacity and relocate workers, but it seems private firms are not entitled. When production was suspended, we had to deal with labor issue by ourselves," a factory manager told China Business News.
Such concern added to their reluctance to a complete shutdown. With steel price rebounding and some manufacturers starting to see profits, an increasing number of factories are choosing to resume production, said the newspaper.
Rate of capacity utilization has picked up 5.7 percent so far this month, according to mysteel.com, an industry e-commerce platform, as the crude steel price rose some 37 percent since the Spring Festival holiday.
The rebound came after the Purchasing Managers' Index of the steel industry remained below 50 for 22 consecutive months and stood at 49 in February, according to the Steel Logistics Professional Committee. A reading of 50 is a dividing point between expansion and contraction.
In 2015, China consumed only 664 million out of the 804 million tons of crude steel, according to government-led agency China Metallurgical Planning and Research Institute, with steel prices falling to 1,500 yuan per ton from 5,600 yuan in its heyday.
The State Council, China's Cabinet, announced earlier last month that crude steel production capacity will be slashed by 100 million tons to 150 million tons over the next five years.
Beijing's smog-hit neighbor Hebei, a province pivoting heavy industries for years, has vowed to further reduce overcapacity, said governor Zhang Qingwei. According to Xinhua news agency, the target it set means 60 percent of existing iron and steel companies in the province will be shut down or merged during the next four years.
"Hebei's overall capacity was round 300 to 320 million tons by the end of last year. In order to achieve the goal, it has to cut the capacity by over 30 million tons annually over the next four years. As de-capacity is carried on, the pressure ahead will be bigger," Xu Liying, analyst with Lange Steel Information Research Center, told the newspaper.
The country expects the industry to lay off some 500,000 workers. Analysts said the situation is more severe with private steelmakers who, as major employers, have been facing more difficulty in staff relocation.
Xinhua contributed to this story.