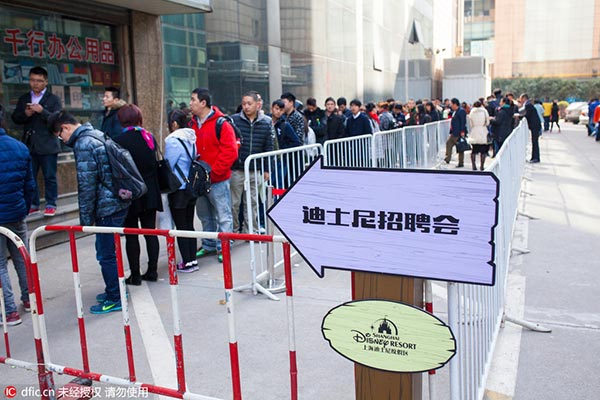 Candidates wait in a queue for an interview in Shanghai, March 1, 2016.[Photo/IC]
As Shanghai Disneyland stands 98 days away from unveiling its wonders to the public, employee recruitment becomes the priority this month, Shanghai Morning Post reported Thursday.
The tempting benefit and career development the company provides keep job hunters willingly lining up in the cold. It takes five to six hours to finish the interview.
Ms. Shen, who walked out of the Disneyland recruitment office at 3pm Wednesday, told a reporter that she arrived at 10 am and had just finished the interview. Trying to get a job with the retailing service booth, she didn't make a reservation online and found herself waiting with other 30 people early in the morning.
"If your online application got accepted, you can just walk in and join the next round of interviews," she said.
"Many applicants got denied because of the lack of experience or their age... sometimes they eliminate an applicant within a minute."
The reporter found that few applicants got job offers. Ms. Zhang, a college student, got a job as an intern and could only be hired after she graduated and make through the trial phase of the job.
Ms. Shen was one of the lucky applicants who made it to the final interview. "I was told that all positions are very popular," she said.
Even though all positions are filled at this point, there's still a 'waiting list' posted by the company's HR department. Anyone on the list has a chance to be hired once there's a job opening, the newspaper said.