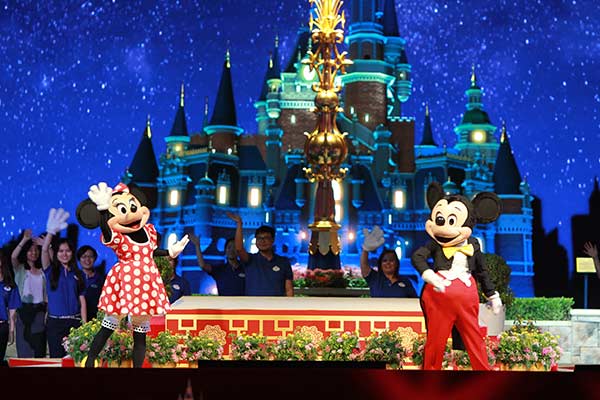 Mickey Mouse and Minnie Mouse interact with onlookers at the unveiling of the Shanghai Disney Resort model last year.[Photo by Gao Erqiang/China Daily]
Project to be three times bigger than Hong Kong version, say company officials
The Shanghai Disney Resort will open its doors on June 16, the Walt Disney Company and its Chinese partner said on Wednesday.
Construction work on the $5.5 billion project, located in the Chuansha township of Pudong New Area in Shanghai, has been completed, the two companies said, adding that the theme park will be the first of its kind to use mobile technologies for crowd management.
The Shanghai Disneyland, China's biggest foreign investment project till date, is a joint venture between the Walt Disney Company and Shanghai Shendi Group. Disney holds a 43 percent stake in the project, while the remaining 57 percent is held by Shanghai Shendi.
The theme park will feature Disney's tallest castle till date, two hotels, a pirate-themed park, shopping, dining and entertainment areas and a 40-hectare "Wishing Star Park" with natural scenery.
The theme park's ticketing plan as well as other operational details will be announced at a later date, the companies said.
The Shanghai theme park is the United States-based Disney's first project on the Chinese mainland and will be three times the size of the theme park it set up in Hong Kong in 2005.
"Construction of the Shanghai Disneyland - which involved the talents of tens of thousands of technicians and construction workers - is entering the execution period," said Fan Xiping, chairman of Shanghai Shendi Group, adding "there's still lots of work ahead before the actual opening".
The park was originally set to open at the end of last year. In April 2014, Disney announced an $800 million expansion with additional attractions. Maintaining Disney's high construction standards has been a challenge, Robert Iger, Disney's chairman and chief executive said earlier.
One of the highlights of the project is the latest ticketing technology that will enable visitors to buy combined entry and transport tickets that transport them to the front gate of the park via the subway. The resort has also created a mobile application that notifies visitors in advance of waiting time and other park-related information.
The new application will also help in better crowd management, said Jiang Yiyi. director of the China Tourism Academy's International Tourism Development Institute.
The world's largest theme-park operator is targeting 330 million residents living in Shanghai and its neighboring cities. "Shanghai and its neighboring cities have a rich pool of potential visitors to the theme park," said Jiang.
However, Disney is also facing competition from other global theme park operators in China. Universal Parks and Resorts has already announced plans to open a huge facility in Beijing. Competition is set to intensify further, said industry sources.
Jiang said there is a huge demand in China for high quality theme park products as seen in the more than 3 billion domestic trips and 100 million outbound trips last year.
The opening of the Disney resort will boost theme park management and improve the quality of services and products, she said.