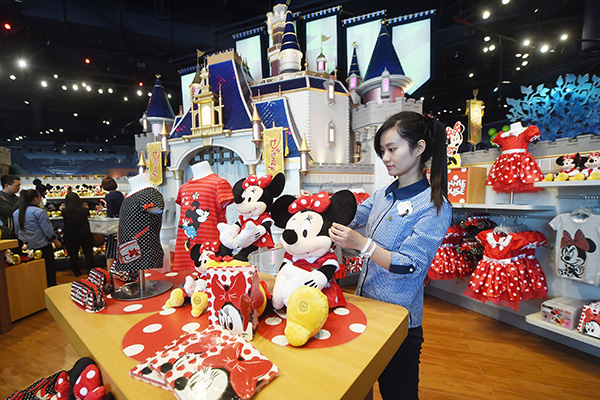 A flagship Disney store in the Lujiazui area of Shanghai. The Shanghai Disneyland is set to open on June 16. [Photo/China Daily]
Tickets for the theme park are set to go on sale from March 28
Tickets for Walt Disney Co's $5.5 billion Shanghai Disneyland theme park are being priced 20 percent lower than its site in Hong Kong, and slightly lower than in Tokyo, officials have revealed.
They are set to go on sale from March 28, with the park itself due to open the gates to its six themed areas on June 16.
During the grand opening period (June 16-30), daily entry has been set at 499 yuan ($75), while the regular weekday price of admission will be 370 yuan, very much on a par with other major theme parks in China.
High-demand times, such as designated public holidays and weekends, will also be priced at 499 yuan.
The regular price of a one-day visit to Disneyland Hong Kong is HK$539, while in Tokyo it will set you back the equivalent of 374 yuan. A ticket to the Disney park in Los Angeles costs $99.
Elsewhere in China, Chimelong Seaworld Park in Zhuhai, Guangdong province, is priced 350 yuan on regular days, and 380 yuan on peak days.
Disney said that the two-tiered pricing in Shanghai will allow the park to manage what it expects to be periods of strong demand at its newest destination.
Kelly Ryner, the president of Thinkwell Asia, a Los-Angeles-based firm specializing in design and production of ventures like theme parks, said the fact Disney has priced its tickets to be more competitive in the Chinese marketplace speaks to the quality of its brand, and a strong commitment to the Chinese people.
"You don't want the park so expensive that Chinese people cannot afford to go there," said Ryner.
"It is smart to make it affordable, and to build love with the local people."
Disney's sixth site worldwide, Shanghai is targeted to attract 25 million visitors annually, mostly from the prosperous Yangtze River Delta region.
Chris Yoshii, vice-president and global director of Leisure Asia of AECOM (Hong Kong), said Asia's theme park market had a good year in 2015, with tourism and domestic business continuing to grow.