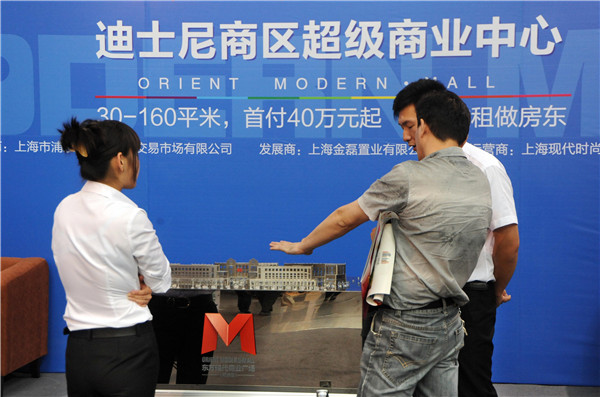 Two sales people introduce a housing project to a potential buyer at a Disney commercial property promotion event.[Photo/China Daily]
Shanghai Disney Resort, which will open in June, is expected to transform the metropolis' economy
Lu Jianxin, a real estate agent with Shanghai Huayu Property Ltd, has had some of his busiest business weeks in January since he joined the sector in 2002. Lu receives more than 50 phone calls every day asking him if he can find unoccupied retail properties near Shanghai Disney Resort, the long-anticipated multi-billion-dollar amusement project that is scheduled to open this summer (June).
Typically, Lu tells his callers they should have acted earlier. "Supplies of retail properties are really limited now and prices have more than doubled in the past 12 months. Obviously, investors believe that even a 10 square meter space for a noodle stand will be really profitable if it is close enough to Disneyland," said Lu.
It's not just business-minded people who are all excited about Shanghai Disney. Even 13-year-old Zhang Zihao in Hangzhou, Zhejiang province, can't wait for Disney to open its gates. He has been saving his pocket money for a long time so he could visit Shanghai Disney Resort during the summer vacation.
"The admission ticket price is expected to be announced this week. I have saved 500 yuan ($75.92) so far for the ticket alone, and another 1,000 yuan for dining and accommodation, and another 500 yuan for merchandise like stuffed animals, stationery, T-shirts and gifts for friends. That's about 2,000 yuan in total."
The project has been under construction for more than six years now. Jun 16-that is, 6-16-2016-has been apparently chosen as the date of opening because the three 6s are believed to be auspicious, heralding success.
Real estate professionals believe any success of Shanghai Disney Resort would entail all-round benefits for the area. For example, visitors in huge numbers would likely spark a retail boom in Shanghai.
According to Centaline Property Agency, the average price of commercial properties within a 5 kilometer radius of Shanghai Disney Resort, including shops and restaurants, has grown more than 300 percent in the past five years.
What used to cost some 20,000 yuan per square meter in 2011 would now command a price of more than 60,000 yuan per square meter. Some properties are even priced more than 72,000 yuan per square meter, about 50 percent higher than that of other suburban areas in Shanghai.
The growth rate is among the highest for premier locations such as Nanjing Road, Huaihai Road and Lujiazui.
In comparison, the average price of residential properties in the same area doubled from 20,000 yuan per square meter to 40,000 yuan per square meter in the same period, similar to that of the city's average growth rate.