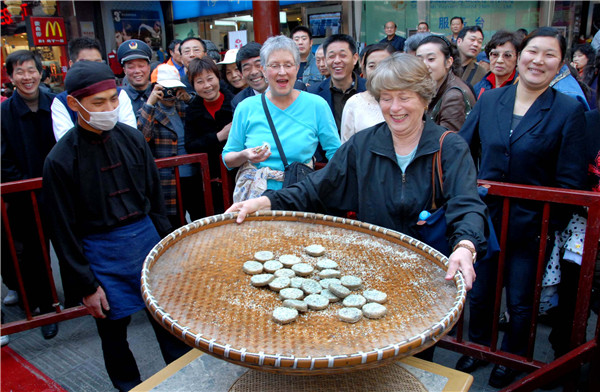 A British tourist prepares sesame seed cakes under the guidance of a Chinese cook at Yuyuan Garden, Shanghai.Provided to CHINA DAILY
With the waves of a downturn lapping the economy, China is trying to shore up growth by developing tourism along its longest river, the Yangtze. In 2015, the economy experienced its slowest annual expansion in a quarter of a century, according to official figures released on Dec 19. Inbound tourism, on the other hand, grew for the first time in three years, with foreign tourist arrivals rising 4 percent year-on-year to 133 million, generating about $117.6 billion in revenue.
The figures have fanned hopes for tourism along the "Yangtze River Economic Belt," an area the central government has earmarked as a new economic powerhouse. The 11 provinces and municipalities on the belt - including Shanghai, Hubei, Chongqing and Sichuan - are steadily adding attractions and transport infrastructure to boost their chances of attracting more visitors.
The potential gains are massive. Of the hundreds of thousands of people that visit the Yangtze on ships every year, only around 20 percent are from abroad.
"Foreign visitors mainly go on short ship tours, which have very limited economic impact on cities and counties along the route," said Li Chunkui, a tourism official in Chongqing.
To try to lure the big-spending foreigners off the boats and into local economies, Li and fellow officials have been encouraging villagers to set up homestays offering the regions' signature spicy cuisine.
American Michael Chu recently enjoyed a bowl of kung pao chicken in a rural inn in Chongqing's Wushan county after a day on the river.
Chu said he used to limit himself to short ship tours "because there was not much to do beside sightseeing," but that the hospitality he has experienced in homestays has made him consider staying longer.
Visitors to Chongqing will also be thrilled soon by a new ghostly theme park in Fengdu, a riverside county known as the "City of Ghosts" under local folklore.
The Fengdu government has allocated 1 billion yuan ($152 million) to build the 67-acre attraction, set to open in May.
Foreigners will need more flights to get them to the Yangtze in the numbers that China wants, so officials are working on this too.
In January, for example, Hubei Airport Group announced that Air Asia is about to start operating two direct flights linking provincial capital Wuhan with Kota Kinabalu in Malaysia and Phuket in Thailand.
Wuhan has direct flights to a dozen Southeast Asian cities, and Air Asia is going to gradually expand this to more than 20, the group said.
Perhaps China's best hope of promoting the Yangtze to foreigners before they get on planes is at the cinema. The third installment of hit Hollywood animation "Kung Fu Panda" premiered in Shanghai on Dec 18, and the film's "Panda Village" is based on the stunning watery environs of Mount Qingcheng in Sichuan province.
"Such promotions will help improve the image of cities and counties along the river and lure more visitors," said Hu Jing, a researcher with the Wuhan branch of the China Tourism Academy.
Officials are wary of over-commercialization around the Yangtze though. Hu warned of "homogenization of tourist attractions".