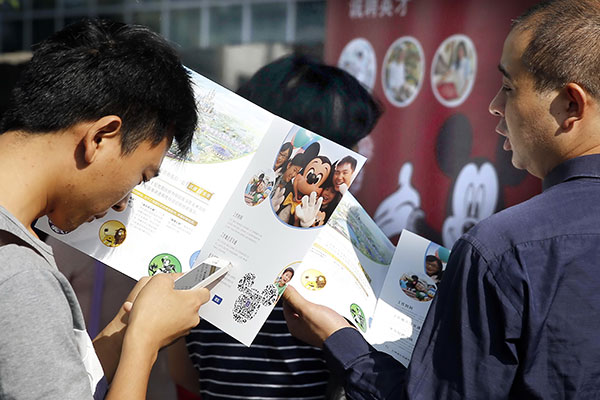 A university graduate attends a talent fair held by The Walt Disney Co in Shanghai. Its Chairman and Chief Executive Robert Iger said on Friday that the timing of China's relaxation of its family planning policy could prove perfect for the company. [Photo by Yin Liqin/China Daily]
The Walt Disney Co's Chairman and Chief Executive Officer Robert Iger said on Friday that the timing of China's relaxation of its family planning policy could well prove perfect for the entertainment giant, coming just months before it opens its new $5.5 billion resort in Shanghai.
Speaking at the University of Southern California's global leadership conference being held in the city, Iger said one quarter of the world is now under 30 years old, with a little more than that, under 15.
Asked how the policy shift might affect numbers at the park, he said: "China is a good market, policy change or not."
The policy now allows couples to have a second child, which is likely to add an average of 2.5 million newborns per year, according to estimates by Liang Jianzhang, a professor of economics at Peking University.
Iger went on to say the company is building its Shanghai site to attract visitors of three generations in China - children, their parents and grand-parents - and catering to all three has a significant impact on the new park's design and its attractions.
"It is important we finish (the resort) on time, yet we cannot rush it," he said.
"As eager as we are to open it fast, we want to make sure we open it right," he said.
Iger said the major challenges the project faces are its sheer size, and that it is "more complex than we even thought".
In designing the new site, he said priority was given to crowd management and safety, and that was a consideration for all facilities, including retail, dining and entertainment areas and a giant lake that has been designed for visitors if the park is too crowded.
The Walt Disney is to release the much-awaited new movie, Star Wars: The Force Awakens at the end of this year.
On its launch in China, he said: "How we market that and how we reintroduce the story into China is critical to us."
"But I am not being complacent about it. We have to do it right."