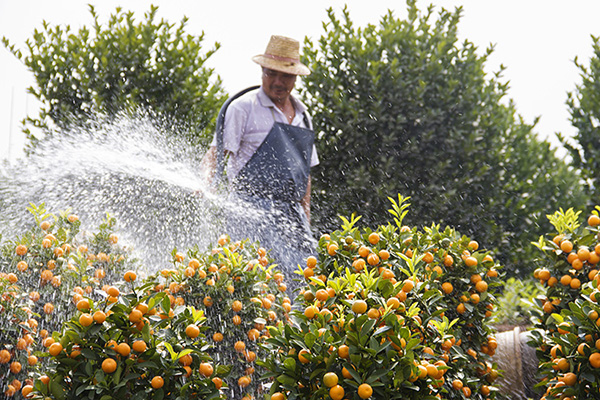 A farmer waters orange trees in Shunde district, Foshan, Guangdong province. [Photo provided to chinadaily.com.cn]
Du Yaobin, owner of Mazai flower farm in Shunde district, Foshan, Guangdong province, has had relatively stable exports of Spring Festival-themed plants since he started his business two decades ago.
His exports are estimated at $1.5 million to $1.8 million for the Spring Festival season this year, declining by about 10 percent year-on-year by value largely due to the depreciation of the Malaysian currency.
The Singaporean market, which accounts for 40 percent of Spring Festival-related exports of Mazai, has generated constant growth in the past few years, with relatively a strong Singaporean currency. Markets such as Vietnam and Indonesia have remained stable.
"Singapore is the only country which allows mud to be imported together with plants, which makes it easier to keep plants fresh," Du said.
"Overseas Chinese have strong interest in Spring Festival. I offer more than 300 types of plants for the festival, including Dracaena Sanderiana, Citrus SP and Anthurium Andraeanum."
Spring Festival plants contributed for 20 percent of the $8 million exports by Mazai last year. About 70 percent of the farm's annual business came from the overseas markets.
Damei flower farm in Shunde recorded 10 million yuan ($152 million) in exports this season, similar to the value for last year's season, with those to Singapore, dominated by Citrus SP, taking up 80 percent of such exports.
"New species developed by local farmers such as Phalaenopsis Hybrids have been well received in overseas markets over the past few years," owner Wu Liexi said.
"New products carry higher added-value, given the many years and risky nature of their development."
Many parts of China, most notably Guangdong province, hold the custom of buying auspicious plants for the Spring Festival, or the Chinese New Year.