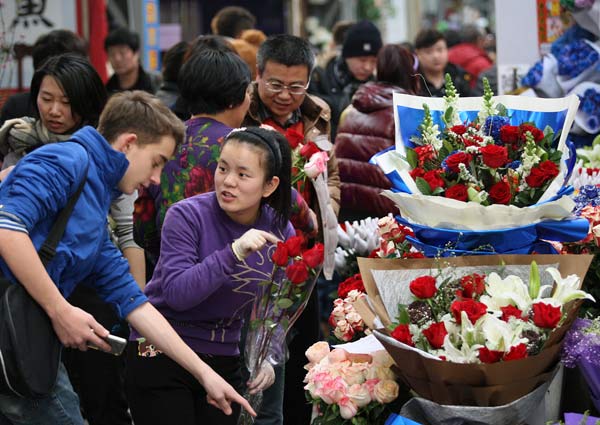 A foreigner asks about the price of roses at Laitai Flower Market in Beijing on Feb 13, 2014 ahead of Valentine's Day on Feb 14. [Photo by Wang Zhuangfei/ China Daily]
Those who buy flowers for Valentine's Day may not realize that eight out of 10 roses come from the Kunming Dounan Flower Market in Yunnan province, the largest flower market in China.
Yunnan has become a base for cut-flower production and exports, and it leads the country in flower sales and output.
The province in Southwest China harvests an estimated 7 billion flowers each year worth 30 billion yuan ($4.8 billion), according to the Yunnan Flower Association.
Prices have been rising at the Dounan Flower Market as the Lunar New Year holiday nears, with gains depending on the variety. The price of a Chinese rose has soared more than 30 percent, and prices for carnations and lilies have gone up by about 3 percent.
In the first half of 2014, Yunnan exported 3,660 metric tons of flowers, accounting for 31 percent of the country's total flower exports, with a value of 110 million yuan.
The province aims to become the largest flower production and marketing center in Asia.
Yunnan exports flowers, mainly roses and orchids, to more than 50 countries and regions, with some markets doing better than others. Sales to Japan increased 9.7 percent to 33 million yuan in the first half of 2014. But exports to Thailand fell 34.5 percent to about 25 million yuan and sales to the Association of Southeast Asian Nations as a whole slid 7.9 percent to 69.3 million yuan, according to statistics from the customs office in Kunming.
Dounan Market also imports flowers, mainly from the Netherlands, Japan, Thailand, Australia and Malaysia. Those blossoms are sold at an average price three to five times higher than domestic species, according to the Kunming International Flower Auction Trading Center.
Yunnan is facing domestic and foreign challengers. The flower business in Vietnam and India is expanding rapidly, making those countries the province's major rivals.
In China, meanwhile, the flower business is rapidly growing in Liaoning, Jiangsu and Zhejiang provinces.
In Yunnan, traditional species such as lily, carnation and chrysanthemum are facing price pressures from other domestic markets, but orchid, camellia and alpine rhododendron flowers still have advantages, thanks to the low prices the province offers.