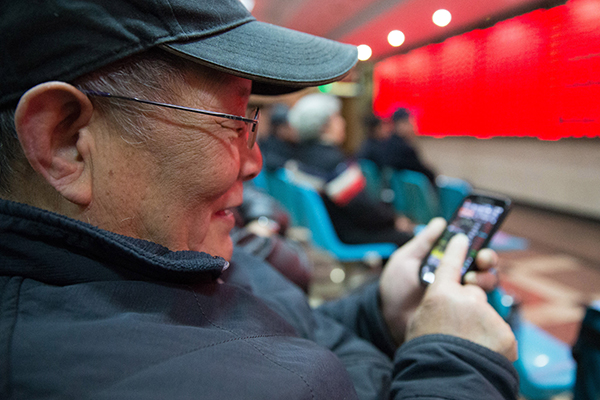 An investor browses stock information with his smartphone at a brokerage in Nanjing, Jiangsu province. The market fears have eased after the central government vowed to stabilize the financial market. [Photo provided to China Daily]
Technology, medical, consumption and property stocks among A-share traders' favorites
Risk appetite of investors is expected to grow this week and extend this month's stock-market rise as the government and financial regulators appear intent on strengthening financial market stability, analysts said.
The benchmark Shanghai Composite Index gained 5.15 percent last week, during which the annual meetings of the country's top lawmakers and political advisors, whom financial regulators are part of, ended.
Wang Delun, an analyst at Industrial Securities Co, said, "We have sensed a clear message from the regulators to maintain market stability. This will help lift the investors' risk appetite."
Gao Ting, chief China strategist at UBS Securities, said the A-share market will likely rise this week as several fears have eased, in part due to various statements made during the annual meetings.
First, the feared further depreciation of the renminbi appears unlikely. Second, fluctuations in the international market are not as sharp now as they were a few weeks back. Third, the spectre of a China hard landing has disappeared, Gao said. "There will be a sentiment correction in the market."
Agreed Prakash Sakpal, an economist at ING Bank. In a research note, he wrote: "We think the exchange rate policy has calmed the (yuan) depreciation expectations sufficiently to free their (the People's Bank of China's) hand for more aggressive monetary easing."
China's central bank had said it does not see any need for competitive currency depreciation to spur exports and economic growth.
Wang Jun, an analyst at China Securities Co, said such statements have reassured investors.
A survey by the brokerage, he said, revealed nearly one-third of investors are confident that China's financial reforms will stabilize the stock and currency markets that were in a tizzy for much of last year and early this year. "The market pessimism has been partly corrected."
GDP growth and government policies will likely determine market movement from now on, he said.
Gao said UBS is "especially positive on property, technology, consumption and medical stocks".
During the annual meetings, China's leaders and market regulators said they will prioritize financial stability, eschew capital market reforms that do not suit China, and further open up markets.
Liu Shiyu, the newly appointed chief of the securities market regulator, said the shift to the proposed registration-based initial public offering system from the current approval-driven practice will be gradual.
The benchmark Shanghai index cheered his statement with a 1.75 percent rise. Market people interpreted it as a sign the regulator is keen that the reform, whenever it gets implemented, should not lead to market panic or cause volatility.
Liu also said it is "too early" to discuss the exit of the national funds from the market. The latter went into firefighting mode last summer when the Chinese stock market slipped into free fall.
For its part, the government initiated action against errant traders and brokerage officials suspected of corrupt practices like insider trading.
"It's clear the government has low tolerance for financial risks," said Gao. If a similar crisis were to happen in future, the government may well consider stiffer measures to stabilize the market, he said.