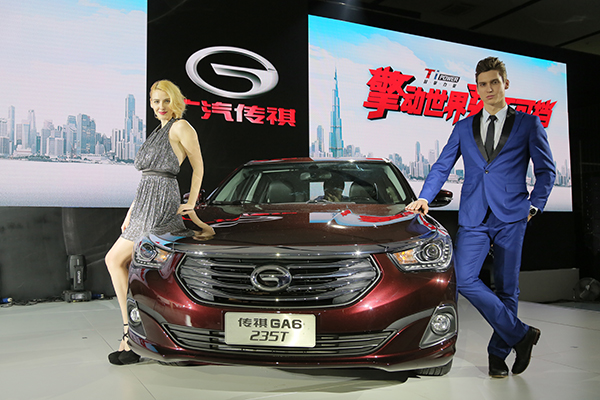 Models pose for a photo with the newly introduced version of the GA6, a homegrown car produced by Guangzhou-based GAC Motor, on Monday in Guangzhou, capital of Guangdong province. [Photo/China Daily by Qiu Quanlin]
Company wants to tap into growing global demand for Chinese automobile brands
GAC Motor, a division of the Hong Kong- and Shanghai-listed Guangzhou Automobile Group Co, plans to build car-assembling facilities overseas to meet the increased demand for Chinese homegrown vehicles, a senior company executive said.
"We are conducting research on the sites of the overseas factories in Russia and Iran, to prepare for booming demand for Chinese vehicles," said Wu Song, general manager of GAC Motor.
Overseas sales of its cars, under the Trumpchi brand, grew 38 percent year-on-year in 2015, with the name becoming especially well known in the Middle East, according to a company source.
In Kuwait, a market known as a playground for international luxury car brands, GAC Motor has grabbed a 40 percent share of Chinese homegrown vehicles, according to the company source.
Founded in 2008 in Guangzhou, capital of Guangdong province, GAC Motor focuses on the production and sale of Chinese homegrown vehicles, and has built a sales network covering 18 countries and regions.
"As a young Chinese home-developed carmaker, we are growing, based on the principles of making quality and safe cars, rapidly both in the domestic and overseas markets," said Wu.
Wu was speaking after the Guangzhou-headquartered company unveiled its brand new 1.5T versions of its star SUV, the GS4, and the GA6 sedan on Monday.
Both the GS4 and GA6, which have been installed with new self-developed power engine technologies, with the peak torque of 235nm, will soon be sold in overseas markets, according to Wu.
The output of GAC Motor's domestic factories was already at full capacity last year, driven by a sharp increase in sales.
"We are expanding domestic production capacity to meeting the increased market demand," said Wu.
In the first two months of this year, GAC Motor sold about 55,000 Trumpchi-branded cars, four times the amount in the same period in 2015, according to the company source.
According to Wu, the second phase of the company's assembling facilities will be put into operation by June, bringing its total annual production capacity to around 400,000 vehicles.
GAC Motor's plan to build overseas facilities follows the overseas market expansion of other Chinese carmakers in recent years. Shanghai's SAIC Motor Corp, for instance, has already announced the opening of its first-ever Middle East head office in Dubai, amid soaring demand for affordable luxury cars in the Gulf region.
"Chinese carmakers are entering a quick development period, with the international market becoming an important area for sustainable business growth," said Wu, adding that the company will export more vehicles to the Middle East.
Sales of Chinese homegrown vehicles grew by 15 percent year-on-year in 2015, an increase higher than jointly invested international brands, according to the China Association of Automobile Manufacturers.