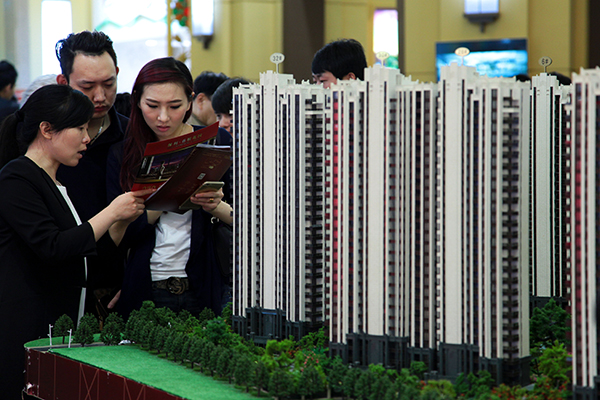 Homebuyers at a property expo in Shanghai. [Photo provided to China Daily]
Shanghai and Shenzhen have taken the lead among major Chinese cities in announcing a new round of restrictions to cool runaway home prices, but analysts suggest a balanced supply and demand would be the ideal solution.
Both announced new curbs on Friday, showing local governments' resolve in taming soaring prices.
Under Shanghai's new rules, local families with one property will have to pay at least 50 percent down payment for a second home. The minimum down payment will rise to 70 percent if the house is either above 140 square meters or priced above 4.5 million yuan ($692,300) and is located within the inner core of the city.
The barrier for buying a home becomes even tighter for families in Shanghai with no permanent residency because they are required to pay taxes for at least five years in a row before buying a property in the city, compared with the previous requirement of just two years of tax payments.
In Shenzhen, local homebuyers are required to pay at least 40 percent of the home price as down payment for a second home, and nonlocal families can only buy one apartment after paying taxes for at least three years.
Also on Friday, Nanjing of Jiangsu province and Wuhan of Hubei province also released stricter measures in granting mortgage loans.
The new policies are in response to the central government's calls for implementing different measures according to their own situations to regulate and control the property markets.
With a 56.9 percent year-on-year growth in February, Shenzhen has recorded the biggest new-home price increase among 70 cities, followed by Shanghai's 20.6 percent, according to data from the National Bureau of Statistics.
Prices in the secondhand home market showed a similar trend, as Shenzhen reported a 54.2 percent year-on-year growth, followed by Shanghai's 20.3 percent.
"There is an escalating difference in home price growth, because first-tier and some popular second-tier cities grow much higher than other cities, and this difference has been carried on," said Liu Jianwei, a senior statistician at the NBS.
"The measures taken by the government will reduce transaction volumes and cool price growth but the appetite for housing stock will keep prices firm. Investors are unlikely to sell as there are few alternatives for their money, while end-users are unlikely to sell either," said James Macdonald, head of research for Savills in China.