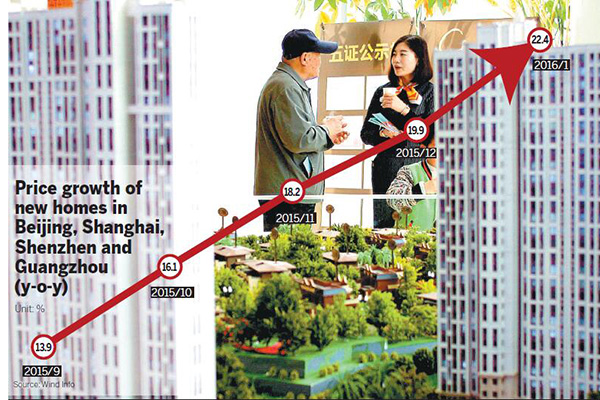 Price growth of new homes in Beijing, Shanghai, Shenzhen and Guangzhou (y-o-y). [Photo provided to China Daily]
Government to offer more land in big cities to meet demand
The central bank will prohibit real estate brokerages and property developers from running financing services if they do not have relevant licenses, People's Bank of China Deputy Governor Pan Gongsheng said on Wednesday.
Pan, also a member of the Chinese People's Political Consultative Conference National Committee, made the remarks at a panel discussion at the CPPCC annual meeting as concerns are mounting over potential risks fueled by those institutions' leverage in the real estate market.
Media reports said a number of brokerages and financial institutions, including Lianjia and 5i5j, have lent their clients money to allow them pay the down payment.
This move, which artificially increases the leverage in home purchases, will fuel a price hike and cause a big worry when a price correction occurs, industry experts said.
"We are communicating with the Ministry of Housing and Urban-Rural Development to regulate such behaviors. Real estate brokerages and property developers are not allowed to run financing services before they obtained relevant licenses," said Pan.
According to Zhang Dawei, chief analyst at Centaline Property, the size of such financing services in Beijing will be around 1.8 billion yuan ($277 million).
"The down payment could be actually lowered by 10 to 20 percent with those financing products, thus allowing financially unqualified buyers to enter the market and result in a price hike of more than 30 percent in no time," said Huang Qifan, mayor of Chongqing and a deputy to the National People's Congress, during a panel discussion at the NPC.
"This is no different from the ballooning of the Shanghai Composite Index fueled by the leverage last year."
Currently, the down payment for first-home purchasers stood at 30 percent in Beijing, Shanghai, Shenzhen and Guangzhou, and 20 to 25 percent in other cities.
Home prices in cities like Shenzhen, Beijing and Shanghai have seen a surge in recent months.
Prices in Shenzhen have increased 72 percent in the past 12 months alone, according to the Shenzhen Urban Planning, Land and Resources Commission. Shanghai and Beijing are following suit.
The supply-demand imbalance and the easing of monetary policy are regarded as major reasons for this round of price surge.
"Those financing services provided to homebuyers do add fuel to the flame and we should warn against the potential risks," said Jia Kang, a member of the CPPCC National Committee and former director of the Ministry of Finance's Research Institute for Fiscal Science.
To ease concern over fast-rising home prices, Minister of Land and Resources Jiang Daming said on Wednesday that the government will offer more land in those cities experiencing a price surge.
Li Xiang and Luo Wangshu contributed to this story.