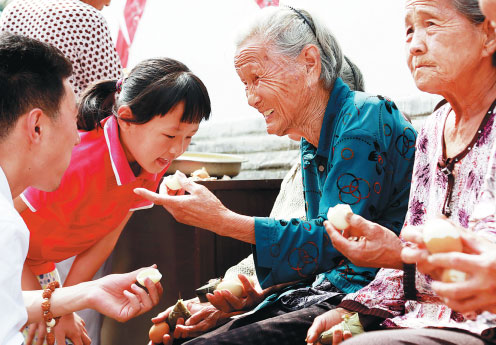 Villagers enjoy special dishes during the Dragon Boat Festival in Shuyuan village, Qufu, Shandong province. With mutual-help groups and joint meetings in place, the villagers are once again beginning to feel a long-lost sense of mutual belonging. Photos provided to China Daily
An NGO is resolving conflicts in the nation's rural areas by applying the holistic approach pioneered by traditional Chinese medicine. Zhao Xu reports from Qufu, Shandong province.
In 1983, Liao Xiaoyi, then a 29-year-old associate professor of philosophy, was diagnosed with a malignant ovarian cyst and underwent surgery to remove her right ovary. Four years later, when a cyst was detected in her remaining ovary, the doctor suggested another operation, but realizing that the surgery would end her chances of motherhood, Liao turned to a doctor of traditional Chinese medicine.
After several months of treatment with herbal soups, Liao visited the hospital for a scan, and was told that the cyst had disappeared completely. When Liao gave birth to a daughter at age 34, her faith in TCM was confirmed.
In 1996, she founded the Beijing Global Village Environmental Education Center, an NGO dedicated to environment protection and the construction of a structured eco-society. It was in her role as founder that Liao sat in the front row of a restaurant-turned-performance space in Qufu county in East China's Shandong province, one afternoon in late January.
Sitting alongside her were county and village officials. On stage, eight colorfully dressed 40 - and 50-something women performed an "umbrella dance", trying to hold the poses like the professionals do and winning applause from their fellow villagers, who packed the hall.
Liao first came to Qufu in late 2014. Over the past year or so, she has become a local fixture, and has overseen the introduction of what she calls "the LoHo Life" in 10 of the rural county's more than 400 villages. LoHo stands for "Life of Harmony"; that is, a structured eco-society.
She initiated the LoHo concept in 2008, when she was involved in rebuilding efforts after an earthquake flattened Wenchuan, Sichuan province, resulting in nearly 70,000 deaths and 18,000 missing people.
"I was there to rebuild the houses and the natural environment, but before long, I realized that no rural rebuilding would be possible in the real sense without reweaving the ragged social fibers," she said. In September of the same year, four months after the earthquake, Liao was invited to the United States to receive the annual Clinton Global Citizen Award, established by the former US president Bill Clinton to honor individuals who "exemplify global citizenship through their vision and leadership".
Structured society
"By providing group entertainment, we seek to reconnect hearts that have long drifted apart from one another. People talk about rural China as a loser in the country's ongoing urbanization process; about its dereliction, its brain drain and polluted land and minds," Liao said, referring to the show held a few days before the Lunar New Year festivities.
"But none of these things can be solved without adopting a holistic approach, the approach that lies at the heart of traditional Chinese medicine. For LoHo to become a way of life, it first has to become a mode of thinking, and a form of governance," the 62-year-old said.
To understand her point, one has to be familiar with the social structure and history of rural China. For millennia, the countryside was anchored by what are now called "natural villages", whose residents share the same surname and worship at the local ancestral hall. The best-respected among them were the key figures, and public life revolved around them.
The situation began to change noticeably in the 1980s, according to Liao. "Around that time, the government founded the concept of 'administrative villages' to govern at the grassroots level. On average, an administrative village is composed of 10 to 30 natural villages."