A new service is providing the first express link between Beijing and a badly disadvantaged area. The service, primarily designed to aid the development of the Guangxi Zhuang autonomous region, has been successful so far, and there are now plans to extend its coverage, as Huo Yan and Xin Dingding report from Nanning.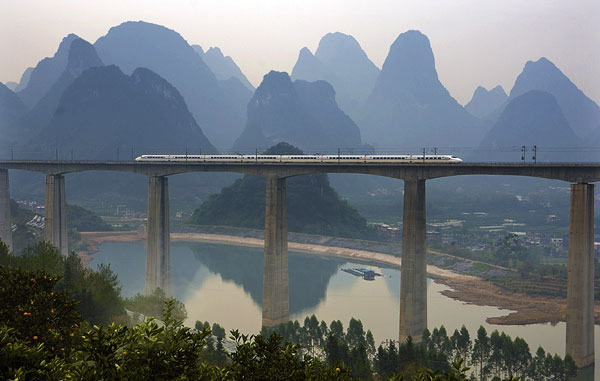 A high-speed train crosses a bridge in Yangshuo in the Guangxi Zhuang autonomous region. China's longest high-speed railway service, which links Beijing and Nanning, capital of the Guangxi, is 2,489 kilometers in length. Guangxi is the first of China's five autonomous regions to be linked to the capital by high-speed rail. Tang Yizhi / for China Daily
A high-speed rail network that stretches almost 2,500 kilometers across a single country is not a common phenomenon.
In Japan, such a network would be impossible - the train would simply have to pull up at the island nation's Pacific coast - and in Europe, pan-continental high-speed railways have yet to take shape, although many European countries have built their own networks.
In September, a high-speed rail service opened between Beijing and Nanning, the capital of the Guangxi Zhuang autonomous region, a distance of 2,489 km. The line is now the longest in China, and makes Guangxi the first of the country's five autonomous regions to be linked to the capital by high-speed rail.
Guangxi, in South China, is home to 12 ethnic groups. The region borders Vietnam, and its long coastline with Southeast Asia means it's regarded as a major gateway to member countries of the Association of Southeast Asian Nations.
Despite those advantages, more than 30 years after the start of the reform and opening-up policy Guangdong province has become China's economic powerhouse, while Guangxi's GDP is worth just a fifth of that of its smaller neighbor.
Poor infrastructure
Many observers have blamed the disparity on the region's immature transport infrastructure, which was so poor that before December, there were no direct rail connections between Nanning and nearby Guangzhou, the capital of Guangdong. Every year as the Spring Festival holiday approached, the expressways would be clogged with hundreds of thousands of migrant workers riding motorbikes from their workplaces in Guangdong to their homes in Guangxi.
Now, things are changing and a high-speed railway network is being planned that would crisscross China's 9.63 million square kilometers of territory. An extended network of this type would enable passengers to zip between major cities such as Beijing, Shanghai and Guangzhou and other parts of the country within half a day.
The ambitious plan has already been realized in Guangxi, where more than 1,000 km of high-speed rail came into use in 2013. Now, the trip from Beijing to Nanning takes 13 hours and 30 minutes, cutting the journey time by half. Passengers can depart from North China in the morning, and arrive in South China in the evening.
The streamlined train departs Beijing West Railway Station at 7:30 am and initially uses the Beijing-Guangzhou high-speed line, reaching a top speed of 300 km/h. When the train reaches Hengyang in Hunan province, it slows to a maximum 200 km/h and switches track to the Hengyang-Liuzhou line. The last change in the journey comes when the train switches again, this time to the Liuzhou-Nanning high-speed line.
Although the journey time has been cut by almost half, frequent station stops - approximately one every 30 minutes - nullify the advantages offered by the high speeds the train can attain.