Measures are being taken to reduce the number of casualties and the damage caused by flooding of small and medium-sized rivers during the rainy season in southern China, as Xu Wei reports from Guiding, Guizhou province.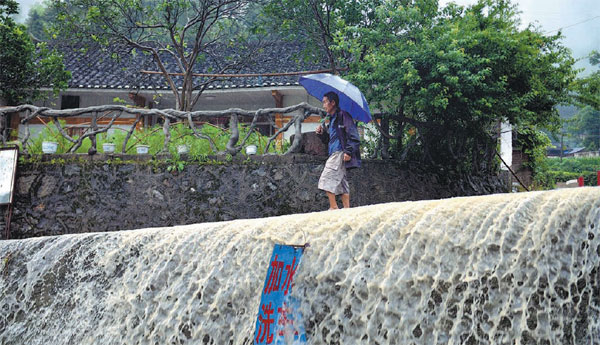 A villager walks in the rain in Yuqing county, Guizhou province. Heavy downpours caused floods that submerged roads and damaged houses in the county on June 10. He Chunyu / for China Daily
Zhao Zegao never dreamed the rocky creek that flows near his home could pose a threat to his home and farmland. At least, not until the night of May 19 when his village was hit by what Zhao described as "the largest downpour I have ever seen in my life".
The 59-year-old resident of Nongzhuang village in Dingdong county, Guizhou province, was attending a dinner when a three-hour storm brought 146.2 millimeters of rain and caused the babbling brook to become a raging torrent that burst its banks, flooding the village within an hour.
"The water level was rising with every minute, and the village officials told us to evacuate before it was too late," Zhao said, recalling how his family ran to take cover in a nearby mountain tunnel.
The warning saved Zhao and his family. The water quickly swallowed homes and farmland, and when Zhao returned home the following morning he found that his house was coated in mud, his crops had been destroyed and drowned livestock were floating in the muddy water.
Zhao and his fellow villagers are now trying to rebuild their lives and farms, but this was not an isolated incident. By May 26, floods caused by torrential rain had killed 43 people and affected a further 7.8 million people in southern China. However, the places worst affected weren't situated on the banks of major waterways - most of the worst flooding occurred in streams and medium-sized rivers, according to the State Flood Control and Drought Relief Headquarters.
Every year, flooded streams and medium-sized rivers account for 70 to 80 percent of flood-related casualties nationwide, the authority said. Last year, more than 300 people died as a result of flooding of smaller streams and rivers, accounting for 61 percent of the 485 people killed in flooding across the country.
Zhang Jiatuan, a spokesman for the State Flood Control Headquarters, said controlling streams and medium-sized rivers would be a key task as authorities strive to prevent the number of casualties from rising.
"We have effectively raised the flood-prevention standards of large rivers in the past two or three decades. The vulnerable areas are now the thousands of small and medium-sized rivers where effective flood-prevention measures haven't been put in place," he said.
A 2013 general survey conducted by the Ministry of Water Resources showed that more than 9,200 rivers have basins that cover at least 200 square kilometers, and they pose major flood risks.
The hazard is so widespread in southern China that every ravine and creek could pose a risk in the event of prolonged downpours, according to Wei Shanzhong, deputy director of the Changjiang Water Resources Commission.
Wei said early warnings have so far proved to be the best way of preventing casualties because residents have plenty of time to evacuate their homes and retreat to higher ground. "We send out the early warning, and then the village heads and grassroots officials are responsible for passing it on to residents and ensuring their safety," he said.
This year, the risk of flooding has been rising, and the meteorological authorities have predicted that the middle reaches of the Yangtze River basin could receive 20 percent more rainfall than usual. Meanwhile, the National Flood Prevention Headquarters is expecting a scenario similar to that in 2010 when 437 rivers flooded, resulting in a death toll of 3,222, with another 1,003 people still unaccounted for.
To make matters worse, El Nino - a warming of the surface temperature in the Pacific Ocean that affects wind patterns - is also expected to bring more rainfall to the south of the country, thereby increasing the chances of small rivers overflowing.