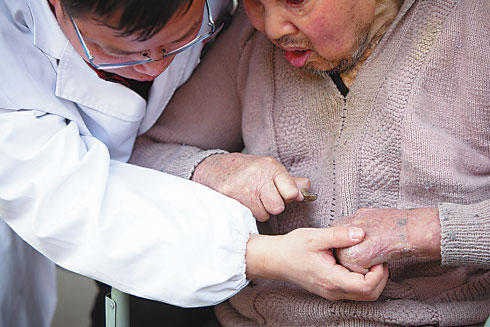 A doctor with the Zhejiang Institute of Dermatology pays regular visits to patients in the leprosy village in Deqing, Zhejiang province. Photos by Gao Erqiang / China Daily
The stigma surrounding leprosy is fading in China as the public gains greater knowledge and understanding of the disease. However, many challenges still remain, as Erik Nilsson and Yan Yiqi report from Deqing, Zhejiang province.
When Xu Xiaotong was 11, his neighbor urged other villagers to set him on fire - just because the boy tried to go to school.
"I was eager to study like the other kids, but ..." Xu, now 69, said, recalling the incident.
Xu had leprosy, and his neighbor was terrified that he would infect the other children. In those days, the strains of both prejudice and leprosy were far more virulent. "I recently returned to the village," he said. "The people were very kind."
The intervening years provided plenty of time for study, and Xu has learned to read and write. He also taught himself to compose music on the erhu - a two-stringed Chinese instrument - and pen lyrics. Now, he's studying to gain a nursing qualification.
Xu proudly displayed a photo of himself with Politbureau member Liu Yandong. "I never imagined someone so important would want to meet me," he said. "I've never even considered living in society. This is home."
Home truths
"Home" is the leprosy village in Deqing county, Zhejiang province, which houses 84, mainly elderly, patients. Most are disabled because they hail from a time before effective diagnosis and treatments dramatically reduced the number of people severely affected by the disease and its after-effects.
About 110,000 people in China are disabled by leprosy, and about 250 of them live in 12 treatment villages in Zhejiang, according Wang Jingquan, the chief director of Xu's village, which is administered by Shangbai hospital under the Zhejiang Institute of Dermatology. "Most don't have enough care or subsidies," he said.
Between the hospital's foundation in 1876 and the end of 2014, the province recorded 16,785 cases of leprosy. Last year, there were just 25 positive diagnoses.
In 2001, the central government announced an ambitious plan to eradicate the disease by 2020, but it's been an uphill struggle. "It's a difficult task, because some (patients) live in remote, mountain villages," Wang said.
In 2011, Zhejiang developed a provincial-level dermatological database, which resulted in the average diagnosis time falling to 16 months, compared with the national average of two years. "Fewer people are becoming disabled now, because we can detect the disease earlier," said Yan Liying, the dermatological institute's director.
The average age of the patients is 75, and they have been in the village for an average of 30 years each. "There are very few newcomers," Yan said. Newly diagnosed patients take medicine at home or at their local hospitals.
"The greatest problem is no longer leprosy itself, but the disability and disfigurement that occur after it's cured," Yan said, adding that skin problems such as ulcers and an inability to sweat mean the patients need extra care. Many have seen their feet either eaten away by disease or partially amputated, and "claw finger" is a common complaint. Mental problems, mainly depression, are widespread.