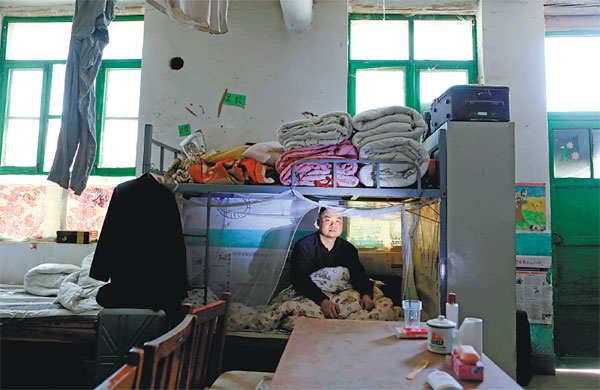 Zhuang Yizhan, a student at the Workers' College, awakens to prepare for school. The institute for young migrant workers provides free tuition, sleeping quarters and meals. Photos by Feng Yongbin / China Daily
A small, dilapidated school in Beijing is providing migrant workers with the basic knowledge they require to make a comfortable living far from their homes in the countryside, as Xin Dingding reports.
The "Workers' College" is probably the smallest, shabbiest educational institute of its kind in Beijing.
The training center for migrant workers occupies a rented campus at an abandoned primary school in the northeastern suburb of Pinggu. On a warm April morning, students sat in a dimly lit classroom and took notes as they hunched over second-hand desks of different sizes and colors.
Although the conditions are far below average, the students, mostly aged between 16 and 25, enjoy free tuition, dorms and meals. The full course lasts six months. In return, they work one day a week at an orchard the school has rented. The school has capacity for 50 students, but this semester, which runs March through August, there are just 19.
There are no formal entry requirements, but prospective students are interviewed about their working experiences and backgrounds. Few have had more than nine years full-time education, and some only attended primary school, but they all have experience of working in factories, on construction sites, or other types of manual labor, as evidenced by the coarse, tanned skin on their hands.
Since 2009, the college has been giving lessons that other training institutes seldom provide - lectures that help the students gain a better understanding of their own skills and aptitudes, and broaden their horizons. They also learn about the history of migrant workers, and study the labor laws so they know their legal rights.
They can also learn practical skills, such as fixing PCs and using computer software, that will give them a wider range of choices in the job market, and are also given the opportunity to learn how to run an eco-friendly orchard or take up internships at NGOs that focus on public welfare.
Sun Heng, one of the founders, said the college was established to teach a range of essential "city-living" skills that will enable migrant workers who left their rural homes at an early age to earn a living in the urban environment.
His philanthropic instincts were also roused by a string of 14 suicides among young workers at a factory in Shen-zhen, Guangdong province, owned by Foxconn Technology Group, where smartphones and iPads were made for Apple Inc. Sun said the news made him aware of the predicament facing many young migrant workers, and the confusion and despair many of them feel. Those feelings prompted him to do something to help them.
Back in 2002, Sun was one of a group that founded a nonprofit organization called Migrant Workers' Home, which was devoted to providing a cultural life for workers in the capital. The organization also founded a primary school for their children in 2005, in the belief that education would exert a positive influence on young minds. "We wanted to open more windows for them," he said.