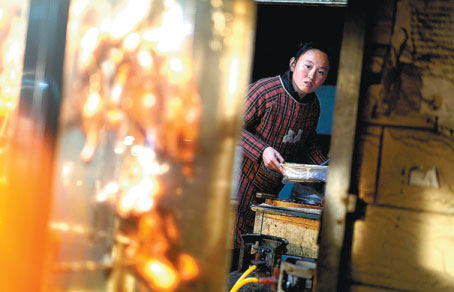 A woman works at her roast duck business in Xibeimen village in Chaoyang district.
A number of artists have banded together to visit some of Beijing's poorest areas and highlight the lives of residents whose crucial role in the city's development is often overlooked. Tang Yue reports.
When a group of young Chinese artists and enthusiasts decided to act as an artistic version of Capital in the Twenty-First Century and examine the gap between the haves and have-nots, they chose to start by documenting the lives of those on the bottom rungs of the social ladder - Beijing's army of migrant workers.
Participants in the project, called "Between the Fifth and Sixth Ring Roads", were required to visit, or even better live in, one of the many villages dotted across the belt of land between the capital's two outermost ring roads for at least 10 days, and then tell the residents' stories in their own way. Since the project began in October, the lives of residents in 30 villages have been recorded, and a further three villages are under the microscope as the project is scheduled to end some time around June.
Ge Lei and three friends started the project as a protest against the "mainstream" art they believe is dictated by auction houses such as Sotheby's and Christie's. They say it's divorced from what they call "social reality" and is only fit to decorate the homes of the wealthy.
Migrant workers are important cogs in the wheels of modern Beijing. They build the subways and high-rise office towers, they cook and baby-sit, and do household chores for middle-class families. However, despite their integral role, they enjoy few of the fruits of the city's success, and the high cost of property and rents means they are forced to live on the outskirts, far from downtown and amenities.
Many of the newcomers live in old villages where the low-rise houses are shabby, hygiene is poor and utilities and services are inadequate. Their neighbors tend to be other migrant workers, elderly Beijing natives and recent graduates whose low wages mean they can't afford to live closer to the center. However, unlike the migrants and the elderly, the graduates have prospects.
There are no official statistics about the number of migrant workers in Beijing, but surveys conducted by sociology students suggest there may be between 3 million and 4 million, and according to one recent report, that figure includes 200,000 children.
Although artists are often regarded as drifters in Beijing (few have permanent resident status, or hukou), their work tends to be "highly commercialized", and some "produce only what sells best and pay no attention to society at all", said Ge, the project coordinator and co-founder of the nonprofit Second Floor Publishing House.
As an example, he pointed to the large number of artists who live cheek by jowl with migrant workers in the Heiqiao area but keep themselves closeted away in their studios and rarely engage with their neighbors.
Although China is now the world's No. 1 market for contemporary art sales, the work being produced fails to reflect people's daily lives, according to Ge Fei (no relation), one of the project's co-founders. "We joke that Chinese artworks have just become decorations for capitalists," he said.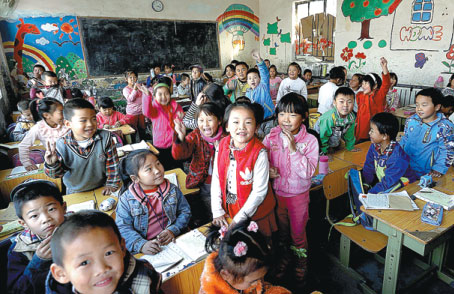 Children of migrant workers attend a primary school in Banjieta village in Changping district.