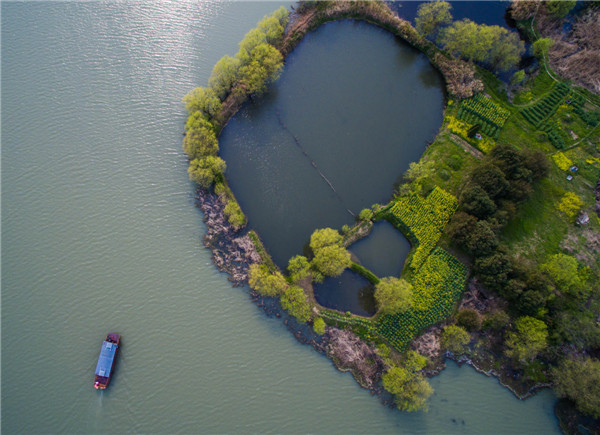 A bird's-eye view of a piece of wetland that's part of the Taihu Lake watershed in Changxin county, Zhejiang province. [Photo/Xinhua]
In 2007, aquaculture businesses around Taihu Lake were devastated by an outbreak of algae that ruined the companies' reputations. Eight years later, the water quality has improved dramatically thanks to the use of a raft of organic cleaning measures, Cang Wei reports from Wuxi, Jiangsu province.
Sun Chu knew his dream was coming true when he watched flocks of wild ducks flying over his local lake in Jiangsu province in search of food.
Sun, manager of Yixing Aquaculture Co in Wuxi, Jiangsu, cherishes an ambition to restore the reputation of aquatic produce from Taihu Lake in markets across Southeast Asia, Japan and South Korea, after sales plummeted in the wake of a massive outbreak of blue-green algae that devastated the flora and fauna, and led many customers to cancel their orders.
"In March 2007, two-thirds of the clam larvae in our 20-kilometer-long, 10-kilometer-wide aquaculture farm died suddenly," Sun said.
The lake had been affected by industrial eutrophication, a form of water pollution caused by large quantities of external nutrients entering the water, which results in massive outbreaks of algae that deplete oxygen levels and kill aquatic life forms.
"The company's direct economic losses totaled 13 million yuan ($2 million). The local environmental protection department later found that clams were killed by water pollution. Before the outbreak, we exported nearly 10,000 metric tons of high-protein, low-fat clams annually, but afterward all our foreign customers ended their relationships with us almost immediately."
Yixing Aquaculture, established in 1995, was forced to relocate its underwater farm to Hongze Lake, about 500 kilometers away.
The outbreak attracted national attention because of the lake's location, its size and the 40 million people who live within its watershed. Covering 2,428 square kilometers and stretching across two provinces, the lake is situated in the densely populated Yangtze River Delta, and experts said the pollution was mainly caused by the excessive discharge of agricultural fertilizers and chemicals used in household cleaning products.