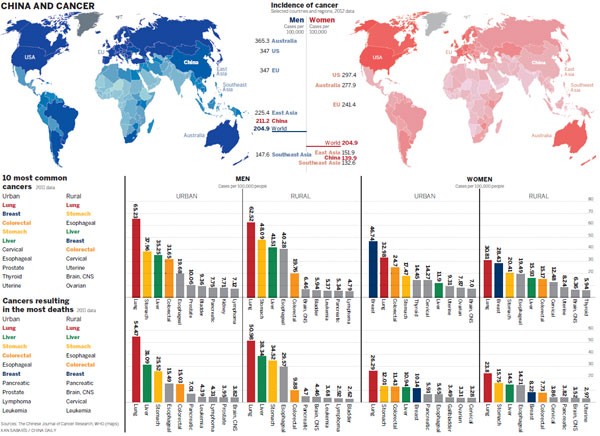 [Click for high resolution charts]
China's high mortality rate is the result of a lack of awareness that results in late detection of the disease, as Yang Wanli reports.
Zhang Chongpin from Northwest China's Gansu province had never considered having a medical checkup until he discovered fresh blood in his feces one Sunday morning in early March. Ten days later, the 43-year-old was diagnosed with colon cancer at a provincial-level hospital in Gansu.
"It's a huge blow to our family - our children are both still in high school," said Li Guiqin, Zhang's wife, who closed her small corner store in their home village so she would be able to travel to Beijing with her husband and help him obtain treatment at one of China's best cancer hospitals.
Earlier this month, the couple left their small home village in Gansu and took their first trip outside the province. Li lined up at the registration counter at the Cancer Hospital of the Chinese Academy of Medical Sciences at 4 am, four hours before it opened, to secure an appointment with one of China's most respected colon cancer specialists. Zhang is now undergoing a series of tests to determine the stage of the disease and if it can be treated effectively.
Zhang is just one of millions of Chinese with some form of cancer. On Monday at 10:30 am, two and a half hours after the registration counter opened at the CAMS cancer hospital, patients and relatives still formed a zigzag line about 200 meters long that filled the hall of the hospital.
Last year, the hospital received more than 2,000 outpatients every day, and the number has been rising by 10 to 20 percent every year for the past decade, according to data provided by the hospital administration.
In the past 40 or so years, the rates of incidence of, and deaths from, cancer have been rising in China while falling in many other countries, including Germany, the United States, Australia and Singapore.