China's rapid urbanization has resulted in problems at bases and disrupted operations across the country, as the armed forces and civilians increasingly find themselves living cheek by jowl, as Zhao Lei reports.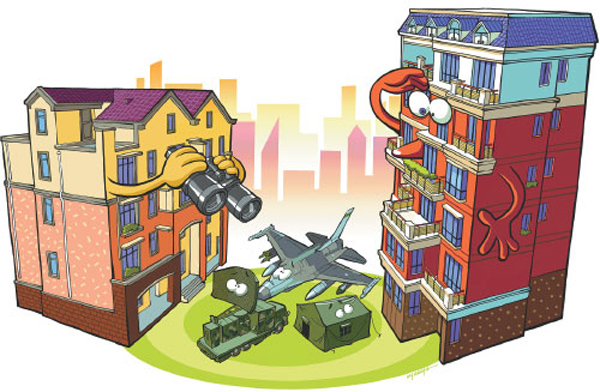 For Fu Jun, deputy commander of a division of the People's Liberation Army air force, the growing number of high-rise buildings around his unit's air base has become a major concern.
"Sometimes a new, tall telecommunications signal transmitter tower will be erected near our airfield overnight," Fu told media briefing recently.
Hangzhou Jianqiao Airport in the capital city of Zhejiang province, where Fu's division is stationed, is surrounded by 20 skyscrapers that exceed the military's stipulated maximum height of 230 meters, according to data released by the headquarters of the PLA air force.
The tallest of the buildings, the Zhejiang Fortune Finance Center, is 258 meters high. The 28-meter overshoot is equivalent to the height of a nine-story residential block.
If this "skyscraper fever" can't be reigned in, the airport, which has been operating for more than 80 years and was the first place that former United States' president Richard Nixon landed during his historic visit to China in 1972, will be lost in the middle of the "urban jungle", Fu said.
"It's not uncommon for our aircraft to have to fly between two high-rise blocks to land. Moreover, in addition to these super-high buildings, balloons, model airplanes, and the fireworks used by people who live near the base also pose tremendous hazards to our planes," he added.
"My pilots now have to take far more emergency maneuvers than before to avoid possible collisions," the veteran aviator said. "Many of our fighter jets are single-engine, so if they encounter pigeons or balloons during a flight, it's highly likely that airborne objects or debris will be sucked into the engine, which will then malfunction. That could result in an accident, or even greater tragedy."
According to information from the headquarters of the PLA General Staff, more than half of China's military's air bases have been compromised by the emergence of high-rise structures, or by civilian activities, in the past 20 years as a result of the country's rapid urbanization, and because local governments are desperately pursuing rapid expansion.
Shan Shaoli, a staff officer at the HQ of the PLA general staff who's familiar with the condition of PLA facilities, said: "More than 1,000 high-rises exceed the approved height stated in the flight security perimeters for military air bases. In the last 20 years, the growth of skyscrapers has led to the closure and relocation of about 20 airbases, and caused about 100 flying accidents."
Citing his experiences in Russia where he has taken part in several joint exercises, Fu said compared with foreign nations, China lags behind badly when it comes to protecting military airports.
"Encroaching on the airspace above a military airport is a felony in Russia. By contrast, China has not done very well in safeguarding military infrastructures," he said, adding that his division has strengthened its publicity to neighboring communities, and worked with local authorities to demolish a number of illegally erected chimneys and transmitter towers.
However, because these measures are unable to keep pace with the rapid expansion of the urban areas, the military airport in Hangzhou is likely to close soon, according to Fu.