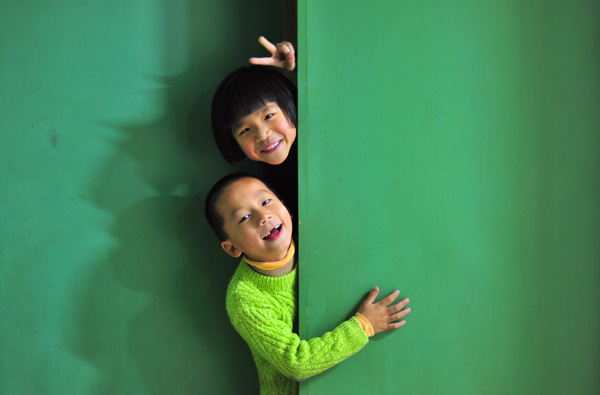 Two children play at an infant nursery center in Jinjiang, Fujian province. They are two of 24 children in the center who have yet to be reunited with their families after being rescued by police in a crackdown on child trafficking in 2005. Wei Peiquan / Xinhua

China is redoubling its efforts to combat the abduction and trafficking of the most vulnerable members of society, as Zhang Yan and Wang Qian report.
Lying asleep in their cribs, the 11 babies at the Kaiyuan Social Welfare Institution in Yunnan province were blissfully unaware of the furor that surrounded them earlier this year.
In August, the children, all younger than 12 months, were rescued from a child-trafficking gang that had abducted them and 10 other babies a few months earlier, and had planned to sell them to the highest bidder.
Although Wang Liyan, deputy head of the institute, is hopeful the infants will quickly be reunited with their families, that seems unlikely to happen soon. Blood samples collected from the children were entered on the national DNA database in the hope of finding matches, and photos were released to the media, but so far no one has come forward to claim them.
Making a breakthrough
In January, police in Yunnan made a breakthrough when they detained a woman at a railway station in Kaiping, and discovered that a child traveling with her was listed as missing. When they questioned her, the woman admitted she was transporting the infant to Shandong province where he was to be sold at a huge profit.
That clue helped police smash a major trafficking ring headed by a Yunnan native and his family that targeted children in the borderlands between the province and Vietnam, according to the Ministry of Public Security.
The traffickers were active in southwestern Yunnan from May to August, buying or abducting a large number of infants. They hired accomplices to undertake long-distance journeys to transport the infants to provinces such as Fujian, Henan and Shandong, where they were to be sold.
In August, the ministry ordered police from Yunnan, Fujian, Henan and Shandong to conduct a joint operation that resulted in the capture of 32 suspects, and the rescue of 11 of the 21 abducted infants.
"The babies have been sold several times, making it difficult to trace their parents. Even worse, because they are so poor, some of the parents may have actually sold their own children. If so, they will be charged with child abduction," said Liang Yong, a police officer from the Kaiyuan Railway Public Security Department in Yunnan who took part in the joint rescue operation.
There are no official figures about the number of children abducted every year, but Chen Shiqu, director of the human trafficking office at the ministry's Criminal Investigation Department, said the number of cases his team has uncovered since January has risen sharply: "We have boosted our efforts to curb child trafficking, but these people abduct infants because the profits are huge, and that makes the risks worth taking."
According to Xu Hong, a press officer at the Kaiyuan Public Security Department, a healthy infant bought for 10,000 yuan ($1,630) to 30,000 yuan in a poverty-stricken area can fetch as much as 70,000 to 80,000 yuan in provinces such as Fujian and Guangdong.
Poverty is often the motive behind the sale of children in remote, rural areas, such as the southwestern provinces of Yunnan, Guizhou, and Guangxi.
The isolated nature of these areas means it's difficult to implement the national family planning policy, which limits most couples to one child, and large families are the norm in remote farming circles, according to Zhang Baoyan, the founder of Baby Back Home, a website that helps parents track missing children.
Chen said childless couples in comparatively well-to-do provinces, including Guangdong, Fujian and Shandong, often "buy" or "adopt" abducted children because they still believe in the importance of "carrying on the family line" and "having sons to support them when they grow old".
"However, children are not commodities, and they can't be trafficked. We will adopt a 'zero tolerance' attitude toward this antisocial activity," he said.



Two alerts, one aim 
AMBER
AMBER Alert, an acronym for "America's Missing: Broadcast Emergency Response". Emergency messages are broadcast when law enforcement agencies activate an urgent bulletin upon confirmation a child has been abducted and is in imminent danger.
The alert, which covers all 50 US states, Puerto Rico, and the US Virgin Islands, was named in memory of 9-year-old Amber Hagerman, who was abducted and murdered in 1996.
The alert provides physical descriptions of the child and the alleged abductor, which are forwarded to local radio and television stations, Internet service providers, social-networking sites and major retailers.
Between 1997 and October, the AMBER Alert plan aided the successful recoveries of 711 children, according to statistics from the US National Center for Missing and Exploited Children.
Adam
Since 2003, the Code Adam Alert has required all federal facilities, such as public buildings, in the US to establish procedures for locating missing children.
Code Adam was formulated by Wal-Mart in 1994, and named in memory of 6-year-old Adam Walsh, who was abducted from a Sears department store in Florida in 1981 and later murdered.
When a child is reported missing, all exterior access to the building is closed and monitored. Once that is done, an employee uses the nearest telephone and pages Code Adam, describing the child's features and clothing to aid those searching for the child.
If the child is not found within 10 minutes of the alert being sounded, local law enforcement authorities are called.
In 2011 the Federal Bureau of Investigation launched a Child ID app, providing parents with an easy way to store pictures and vital information about their children. The information can be quickly e-mailed to authorities if the child is reported missing
US authorities have released a guidebook When Your Child Is Missing: A Family Survival Guide, which provides information and advice about the steps to take when a child goes missing, who to contact, and how to best assist law enforcement officers.