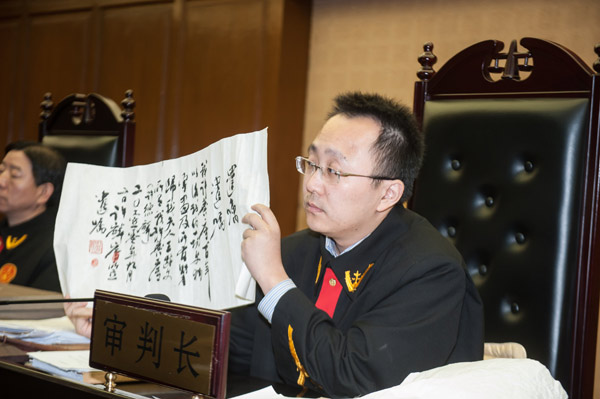 A judge in a court in Beijing displays an original copy of a will during a case about disputed inheritance. An increasing number of elderly people in the capital are turning to professional organizations or law firms for help in dealing with their property after they die. PU DONG FENG / FOR CHINA DAILY
The China Will Bank provides free advice and services to give testators greater peace of mind about the disposal of their property after their death, Yang Yang reports.
On Friday morning, Wang Guifu carefully copied a draft of her will.
The two-page document took more than an hour to write, and every once in a while the gray-haired 84-year-old took a short break. She was desperate not to miswrite the characters, but even so her hands shook involuntarily, rendering some of the characters almost illegible.
Wang has presbyopia, a condition that reduces the eye's ability to focus and means she's unable to see objects up close. She held a magnifier in her left hand as she concentrated on the document her daughter Guo Zhi tried to hold steady. Sometimes, the magnifier slipped from Wang's hand.
Guo was anxious, too. She had driven more than an hour from south Beijing to accompany her mother to the No 2 registration branch of the China Will Bank in the Media Village in the north of the city.
A family at war over father's fortune
In October, a court case about a disputed will attracted widespread public attention. The case revolved around a fortune estimated at about 2.1 billion yuan ($343 million), and the defendant was 95-year-old Wang Lingwen, the widow of a painter and calligraphy master named Xu Linlu. The case had been brought by Wang's children and grandchildren.
When Xu passed away in August 2011, apparently intestate, Wang inherited the lion's share of his estate. However, a year later Xu's third son, Xu Huayi, and four grandchildren sued Wang, demanding that the fortune be split fairly, in accordance with China's Law of Succession. The dispute really became rancorous when, in September 2013, Wang presented the court with a document she claimed was a will her husband had written in 2010. The children refused to believe the document was genuine.
The nonprofit organization provides free services to people aged 60 or older, helping them make, register and manage their wills.
However, Guo had to leave Beijing on a business trip at 3 pm, and time was slipping away. When Wang finally finished copying the will, it was almost 11 am. If Guo wanted make sure her mother got home safely and still catch her train, they would have to leave the office at 11:30 am.
Wang was one of 38,000 seniors on a waiting list for the services offered by the Will Bank. To ensure that no one could contest the document, she had already taken the precaution of undergoing hospital tests to determine her mental health.
Mother and daughter had waited seven months to attend the center. They didn't want to have to visit again, so they sat and waited to speak with one of the legal assistants.
After the assistant had reviewed the handwritten document and helped revise a few paragraphs, Wang prepared herself for the final part of the process - reading the will live on videotape.
She was nervous. If she made a mistake during the recording process, she would have to start over, so when she walked into the taping room, leaning heavily on a cane, Guo prayed that everything would go smoothly.
The Will Bank's first registration branch began operations in Beijing's Dongjiaominxiang Alley in March 2013, but demand was so high that a second office was opened in September.
"We are pushing to open more registration centers in Beijing," said Chen Kai, 37, director of the Will Bank's management committee, adding that two more branches will be opened at the end of the year in the districts of Dongcheng and Xicheng.
Aging population
Beijing has an aging population: 3 million residents are aged 60 or older, and by 2020 the number will be 4 million, 25 percent of the total resident population.
"If just 10 percent of Beijing's seniors wanted to make a will, the number would be 300,000, far outstripping our capacity," Chen said.
The two branches, jointly staffed by about 40 legal workers and volunteers, can only serve 60 people a day. In the past 20 months, they have helped about 7,000 people make wills, which are then held by the organization free of charge.
Without the second branch, simply serving all the current applicants - and the number is rising every day - would have taken until the end of 2016. The opening of the new branch saw waiting times cut by half.
Because many people arrive bearing wills riddled with legal loopholes, the Will Bank provides 22 reference samples, and computer software has been developed to systematize the process.
"On our platform, you just need to fill in the relevant information, and the system will create a will for you based on our samples. The system has really improved our efficiency. If testators don't use the platform, we have to review their drafts, and then tell them which sections are incorrect and why. That's really time-consuming," Chen said.
The software provides step by step instructions for testators, and, provided they have all the relevant documents, such as the results of their mental health assessment and certificates of property ownership, most are able to complete the process in less than a day, he added.
However, not everyone finds the process as easy as Wang did. Failure to provide the correct documentation can be frustrating and upsetting for testators and for their children if they accompany their parents to the branch.
As Wang was writing her will, an 81-year-old man who was almost completely deaf, lost his temper and shouted at the assistant who was explaining that he hadn't provided the right documents. It was the third time the man and his two daughters had visited the branch.
"Let's leave! I give up! It's shameful! Shameful!" he bellowed, his face red with anger and the ivory-colored cable of his hearing-aid swinging wildly from his ear. Unfazed, the assistant began to explain what he needed to do.
"It's no use! I've been to the hospital (for mental assessment), but it's useless!" he replied. "Let's leave! I'm 81, but I've waited more than a year! I'll go kill myself! It's a waste of time!"
A different assistant approached and tried to calm the irate senior, saying he could have another appointment later this month.
"I want to listen, but I can't hear you! If only I could hear you!" the old man said as his daughters signaled it was time to leave.
Contact the writer at yangyangs@chinadaily.com.cn