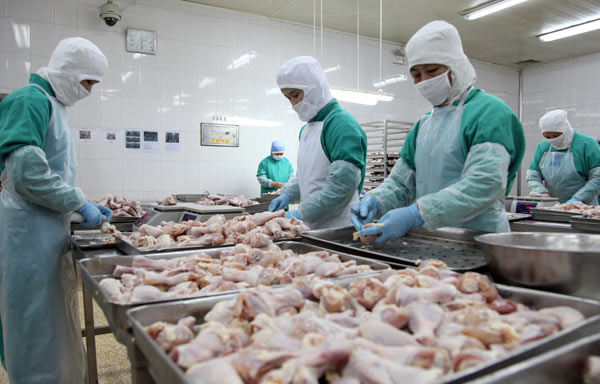 Workers at Anqiu Foreign Trade Foods Co in Weifang, Shandong province, prepare chicken for frying prior to export to Japan. LI CHAO / FOR CHINA DAILY
Chinese agricultural exporters are beginning to address the problems related to entering their home market, as Xu Wei reports from Weifang, Shandong province.
After a decade as one of the main suppliers of garlic and ginger products in the Japanese market, Wang Xiuzhi decided it was time to diversify his trading base.
Wang's company, Genseida Trading Co, based in Anqiu of East China's Shandong province, has a market share of 20 percent in Japan's ginger trade, and about 33 percent in peeled garlic. In May, it launched its first product in the Chinese market - a type of fermented garlic flavored with chocolate - and also opened an online store on Taobao, the country's largest online marketplace. Wang, Genseida's general manager, knows the company has one major advantage over its competitors: Its products conform to Japanese standards.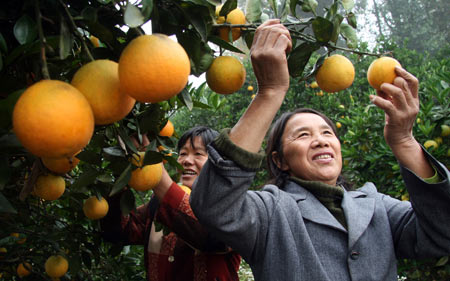 Farmers pick navel oranges in Xinning county, Hunan province. The region is one of China's biggest navel production bases for export. LI AIMIN / FOR CHINA DAILY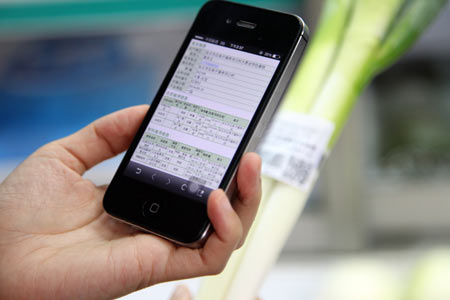 A person uses a smartphone to check product information via a twodimensional code. An increasing number of business people are relying on online stores for sales. LI CHAO / FOR CHINA DAILY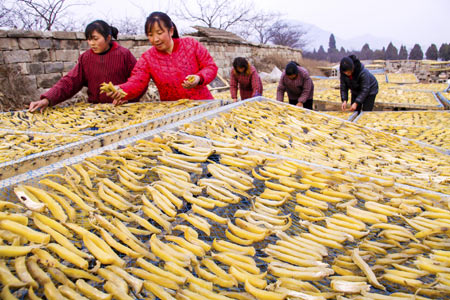 Farmers dry products made from sweet potatoes in Zaozhuang, Shandong province. The products will be exported to Japan. LIU MINGXIANG / FOR CHINA DAILY 
"In the past 10 years, purchasing power in Japan hasn't changed, but it has in China. Here, people are paying greater attention to the quality of life, and the quality of the products they buy," he said.
Wang's ambition to explore the domestic market is shared by many agricultural exporters, who also regard obtaining a certificate that allows them to export to developed markets as a steppingstone to entering the domestic high-end agricultural market.
A number of scandals concerning food safety means the issue has long topped Chinese consumers' concerns. The most recent came in July, when Shanghai Husi Food Co, a supplier for leading fast-food chains, including McDonalds and KFC, was accused of selling reprocessed meat, including beef and chicken, that had long passed its expiration date.
In 2013, China's grain output rose 2.1 percent from a year earlier to almost 602 million metric tons, marking the 10th consecutive year of growth. Moreover, the country has emerged as the world's largest producer of fruit and vegetables, providing 20 percent of the fruit on the global market, and more than 50 percent of vegetables, according to the 2013 Statistical Yearbook of the UN's Food and Agriculture Organization.
However, China's exported products have a much better safety record than the domestic variety. In Shandong, the country's largest vegetable-export base, more than 99.95 percent of exported agricultural produce passed the official tests last year.
China's total vegetable export volume reached $11.6 billion in 2013, a year-on-year increase of 16.2 percent, while that of fruits reached $6.32 billion, according to the Ministry of Agriculture.
Liu Haiyan, manager of Anqiu Foreign Trade Foods Co in Weifang, said the company, which currently relies on overseas markets for 70 percent of its sales, is targeting parity in the domestic and foreign markets in 2015. "We use the same standards, the same plants, to produce the same products. The challenge lies in the marketing and branding procedures," she said.
In Guangdong province, farm owners are using the certificates that allow them to export their products to Hong Kong as a means of accessing other high-end agricultural markets.
They point to the fact that Hong Kong has higher standards for imported agricultural products than the mainland.
"If the products pass the quality and safety tests in Hong Kong, it will be much easier to pitch them in other areas of China," Wen Xiaoyan, director of Santai Eco Fishery Ltd, in Dongguan, Guangdong province, told China Daily in a previous interview.
Different standards
The fact that exporters are using their export-certification status to access China's high-end market underlines the country's lower safety standards for agricultural produce, according to experts.
"There are 35 pesticides on the national list of banned pesticides, but in our county alone, 55 different pesticides are banned, as required by the export-destination countries," said Li Jianfang, director of Anqiu's Agricultural Product Safety Office.