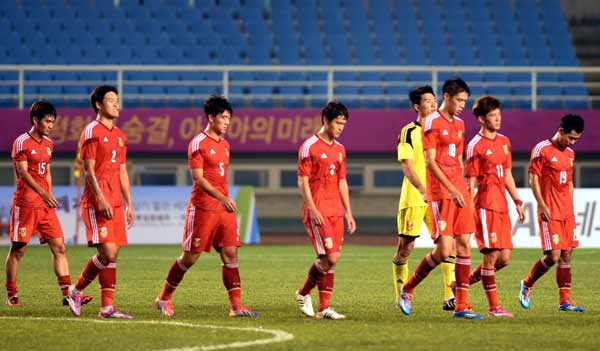 China's men's soccer players walk off the field after losing to Thailand 20 on Sept 25 and failing to make it to the last eight at the Asian Games. LU BINGHUI / XINHUA
China's 'big-ball' teams need to rely on homegrown talent to compete on the world stage, as Sun Xiaochen reports from Incheon, South Korea.
When the Chinese media approached starting center Wang Zhelin to talk about the national basketball team's poor performance at the Asian Games, the towering 20-year-old bowed his head to avoid the TV cameras.
"We feel bad and we want to say sorry to all the hoop fans in China who were disappointed by our performance here. We did our best on court, but the gap (with the best Asian teams) is still there," the 2.14-meter Wang said tearfully in the wake of a hard-fought quarterfinal defeat to Iran, which left him with badly bruised ribs and a bloodied nose.
However, despite the public backlash, sports observers said Wang and his peers in China's basketball, soccer and volleyball teams should not shoulder all the blame for the disappointing performances of the country's "big-ball" teams.
Instead, they blamed a lack of grassroots participation, and unprofessional league systems, which they said has taken a toll on the development of big-ball sports in China, and urged the implementation of comprehensive measures to improve performances over the long term.
Xu Jiren, head of sports at the Xinhua News Agency, said: "The big-ball sports' defeats reflected a violation of proper developmental methods. We should concentrate more on the grassroots foundations and a professional approach, and not just on training at the elite level."
Asiad disappointment
After finishing fifth at the 2013 Asian Championships, its worst result since 1975, the Chinese men's basketball team, the Asiad gold medal winner in 2010, had expected to regain its dominant position at this year's event. Instead, the campaign ended on a new low as the team crashed out at the quarterfinal stage; the loss was made even harder to bear because Japan inflicted an unexpected 79-72 defeat in the preliminary rounds for the first time in 40 years.
The men's Under-23 soccer team, which aimed to avenge a 5-1 loss to Thailand in a friendly match last year, succumbed 2-0 against the same opponent before bowing out of the Asiad at the quarterfinal stage for the fourth consecutive time at the Asiad.
The once-elite women's soccer team - the silver medal winner at the 1996 Olympic Games and runner-up at the 1999 World Cup - also performed poorly, failing to reach the semis for the first time since 1990, when it first began competing in the tournament.
The disappointing performances all happened within two months of President Xi Jinping's expressing the hope of seeing China's big-ball teams rise to a higher level as a symbol of national sporting power.
Xiao Tian, China's deputy sports minister and the delegation chief, said massive gold-medal hauls at events such as the Asiad and Olympic Games don't compensate for losses at big-ball events.
The disappointment overshadowed positive displays in traditionally strong events such as table tennis, badminton, gymnastics, shooting and weightlifting, which helped China dominate the table with 151 gold, 108 silver, and 83 bronze medals.
"Without breakthroughs at high-profile big-ball events, China will not cement its status as a global sporting power, even though we have won a lot of medals," Xiao told a media briefing in Incheon.
More cooperation required
According to the experts, only success in high-profile big-ball events will help China walk tall on the global sporting stage, but achieving that will require cross-departmental cooperation to strengthen reforms of the domestic leagues and expand the school sports system.
"Pouring all the blame and outrage on the players or the events' governing bodies is unfair. Of course, they should take responsibility, but revitalizing big-ball events from the grassroots can't be done by the sports administration on its own," said Yi Jiandong, a renowned sports sociologist and vice-president of Jiangxi University of Finance and Economics.
"Developing mass-popularity team sports such as soccer and basketball requires a comprehensive pyramid system, consisting of a wide base of school sports, a solid multilevel league system, and elite national programs on top of that. At present, we are missing a lot at the bottom," he added.
Lacking a mature, professional approach and solid systems to cultivate reserve talent, the recent prosperity of China's soccer and basketball leagues has failed to feed through to the national teams despite their recent prosepcrity.
Since it was established in 1994, the Chinese Football Association Super League has developed into a 16-club competition, boasting a host of glittering players such as Didier Drogba, Nicolas Anelka and renowned coach Marcello Lippi, who guided Italy's national soccer team to World Cup glory in 2006.
Instead, the heavy dependence on foreign imports and a lack of motivation to nurture youth talent have resulted in a decline at the national level, as evidenced by China's failure to qualify for the World Cup since 2002.
"Professional development doesn't just mean spending heavily on hiring a renowned foreign coach and importing big-name foreign players; it requires the whole soccer management system to function professionally within a solid youth structure," Cai Zhenhua, president of the Chinese Football Association, said.
Driven by short-term aims, most Chinese Super League clubs don't bother to develop their own talent. Instead, they spend vast amounts on recruiting overseas stars to guarantee instant success. Only a few major clubs, such as Shandong Luneng Taishan and Guangzhou Evergrande, which won the 2013 AFC Champions League, have established echelon systems for youth development, while the others rely on imports and domestic trades.
With most of the rights to commercial development and talent drafting held by local sports bureaus, many clubs, which are affiliated with the bureaus, lack the motivation to foster reserve talent in a professional way, according to insiders.
"The league actually operates in a semi-professional manner, with decisions in many clubs taken by local governing bodies, not investors. That doesn't encourage the clubs to invest heavily in youth development," said Wang Qi, president of Shenzhen Ruby, a second-tier league club.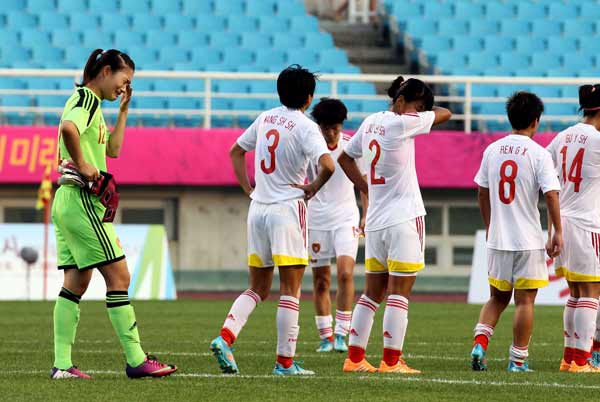 China's women's soccer players weep after losing the quarterfinal match to the Democratic People's Republic of Korea at the Asian Games. JIN LINPENG / XINHUA