Producers say they can compete with top global brands, Cui Jia in Beijing, Wang Huazhong in Ningxia, Zhao Ruixue in Shandong, Zhang Yu in Hebei and Cheng Hong in Shanxi report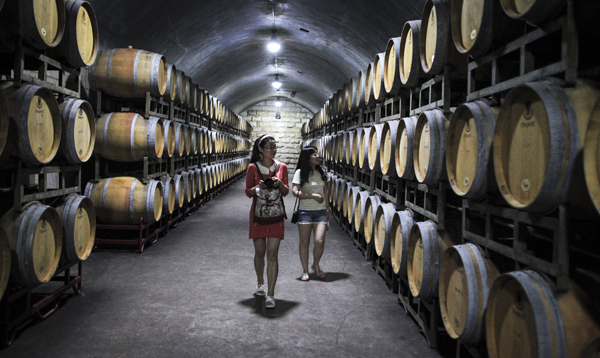 Tourists visit the wine storage room at the Changyu Wine Culture Museum in Yantai, Shandong province. The museum has attracted numerous visitors since it opened to the public in 1992. Zhu Xingxin / China Daily
People in China drank more than 1.86 billion bottles of wine in 2013 - 1.36 times the amount consumed in 2008.
But most probably still know more about French wine regions such as Bordeaux than they do about domestic producers.
Changli county in Hebei province had the market to itself when it produced China's first bottle of dry red wine, but the situation is very different now, according to an official.

Now the owners of wineries across the country want to prove to customers at home and abroad that Chinese wine can be just as versatile and full of personality as top international brands.
They are confident that soon enthusiasts will want to order a bottle of cabernet sauvignon from the Xinjiang Uygur autonomous region to go with a steak, or a glass of chardonnay from the Ningxia Hui autonomous region to accompany fish.
China, which produced its first bottle of dry red wine in the 1980s, has established 10 wine production regions, each with its own character.
"Wine is like Chinese food, it has so many flavors and everyone can find the one for him or her," said Duan Changqing, director of the Research Center of Grape and Wine at Beijing's China Agricultural University.
Wine has been made in China since the explorer Zhang Qian traveled west in 138 BC. He returned with information about winemaking techniques, and also brought back people who possessed the necessary expertise.
Winemaking reached its peak during the Tang Dynasty (AD 618-907) as the country's economy boomed. Historical documents show that Li Shimin, a Tang emperor, greatly enjoyed wine.
Li expanded his territory to include what is now Xinjiang's Turpan area, which was famous for its grapes. He acquired details of a local method for making wine, which was later served at banquets.
"The wine industry often flourishes when a country's economy is relatively developed," Duan said. "China's past and present have proved this theory."
Most Chinese wines are sold domestically, but Duan believes they will eventually become a popular choice for customers in other countries, just like Chinese food.