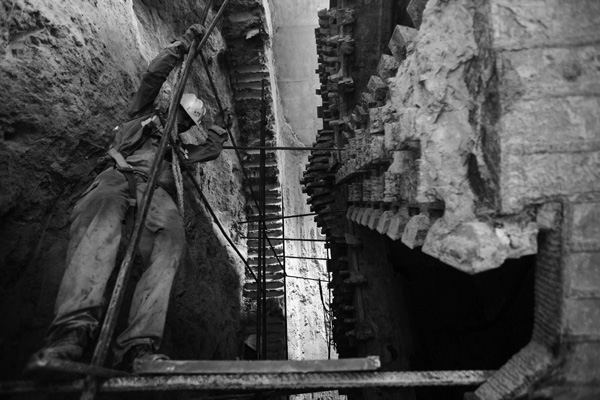 An Indian worker of Shanghai Urban Construction Group works in a subway construction site in New Delhi on Sept 6. China and India have agreed to increase investment in Indian industrial and infrastructure projects. ZHENG HUANSONG/XINHUA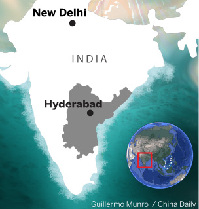 Exporter finds the right climate for business in Hyderabad, reports An Baijie in New Delhi.
Chinese entrepreneur Fan Chengliang expects to make his fortune in India.
Fan, 40, owns a company that exports Indian spices such as pepper and cumin to the Chinese market. In March last year, he launched his business in suburban Hyderabad, a city with more than 6 million people in southern India.
Fan is confident of his move. The climate in India helps bring out the distinctive flavor of its spices that are different from those of any other place in the world, he said.
For example, "the pepper is spicier than those planted in China, and such products are popular in China's Sichuan and Yunnan provinces, where people like eating spicy food", he told China Daily earlier this month.
Increasing demand to learn Chinese language
Editor's note: Nancy Hsiao, founder and director of Han You Chinese Language Institute, headed to New Delhi from her hometown in Taiwan. She established the institute in 2011 to offer Chinese-language training courses. China Daily reporter An Baijie spoke with her on Sept 13 and below is an abstract of what she said about her career.
The China-India relationship has improved in recent years, especially after then-Chinese president Hu Jintao visited India in 2006. More and more Indian people, mostly businessmen who trade with China, have an increasing demand to learn the Chinese language.
However, the number of Chinese people living in India remains small, let alone qualified Chinese-language teachers. I have experience teaching the Chinese language in Taiwan so I decided to establish an institute in New Delhi to train people in Chinese.
All of the teachers in my institute are Chinese natives who have a comprehensive knowledge about Chinese language and culture. We are looking for more qualified Chinese teachers along with the expansion of our businesses, but it's difficult to find excellent teachers.
There are lots of misunderstandings between the people of the two countries. Many Chinese have been misled by negative news reports that depict India as disorderly and dangerous. But actually, it is not bad here.
The average income level in India is lower than it is in China, and I think that's why there are not so many Chinese people here.
About 300 Indian people have received training courses here in the institute. Some big companies, including Tata and Samsung, have also had their Indian workers trained here. There are also many children from the embassies learning the Chinese language in the institute.
After receiving about 40 hours of language courses, most of the trainees could introduce themselves, including their names, jobs, hobbies and family members, in Chinese.
In class, we not only train people in the language but also introduce Chinese culture and tradition, which will help the students better understand China.
Given the fact that more and more Indians are willing to learn Chinese, we are planning to set up a branch in Gurgaon city of Haryana state, where there are a large number of companies. 
His products are mainly sold to wholesale markets in China, though some Chinese restaurants buy spices directly from his company.
"Besides, I cannot find any other place in the world with such a young workforce and such a vast area of farmland," he said. "It's paradise for those in the agricultural business."
Fan pays his five Indian workers about 2,000-3,000 yuan ($326-488.5) each a month, which he said is "decent payment" compared with local wages.
"In China, it is impossible to employ excellent workers at such prices," he said.
Fan's company is just part of an increasing number of Chinese businesses riding on growing economic and trade ties between China and India in recent years.
Bilateral trade volume hit $65.471 billion last year, figures from the Chinese government showed. By the end of June this year, China's direct investment in India was $1.08 billion, Xinhua News Agency reported.
Bai Yuwen, a Chinese who works for a multinational company, said that India's huge population offers unimaginable potential for her business, which is mainly based on people-to-people exchanges.
India's population hit 1.21 billion in 2011, census figures showed.
"Although the Indians in general are not so rich now, they will definitely create development miracles because they have so many young people," Bai said.
Her Indian colleagues are very diligent since they cherish the job opportunities, Bai said.
Chen Zhijin, a board member of TBEA Energy (India), said that India's problematic power grid has provided numerous business opportunities for Chinese manufacturers of power-related equipment such as TBEA.
The company, established in the western Indian state of Gujarat on June 28 and owned by Tebian Electric Apparatus Stock, China's first listed enterprise involved in transformer products, has started making and selling some of its electrical transformers to Indian customers.
The Indian government has shown great interest in foreign investment and it has given the green light for the company's moves, he said.
President Xi Jinping's recent visit to India has also enhanced bilateral economic cooperation, Chen said.
Xi arrived in India on Sept 17 for a three-day visit. The country was the last stop of his four-nation tour in Central and South Asia that included Tajikistan, the Maldives and Sri Lanka.
Bright future
China and India agreed on investment in India's railways and the adjustment of their trade imbalance during the talks between Xi and Indian Prime Minister Narendra Modi on Sept 18.
China will establish two industrial parks in western India and try to increase its investment in Indian industrial and infrastructure projects to $20 billion in the next five years, according to a document signed amid the visit.
China also plans to offer 10,000 scholarships, training opportunities for 5,000 youths and exchange and training programs for 5,000 youths, and train 5,000 Chinese-language teachers for South Asia in the next five years.
To further promote the two countries' religious exchanges, China announced the opening of a new route for Indian pilgrims to the Tibet autonomous region, for which the Indian side expressed its interest and appreciation.