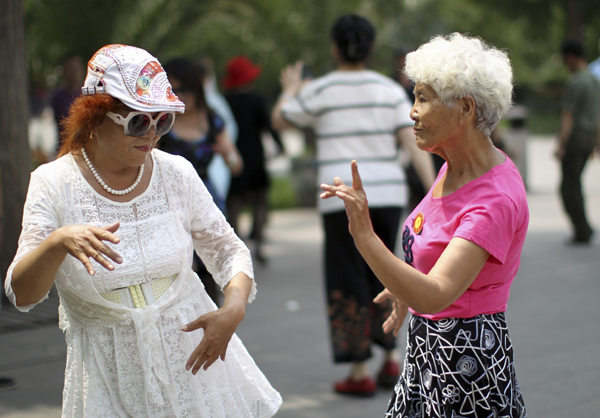 Dancing in public spaces is a growing phenomenon in China, especially among retired women freed from the necessity of going to work and caring for their children. Zou Hong / China Daily
Conflict has arisen between dancing groups and their annoyed neighbors
Some have labeled them ridiculous and annoying, while others believe that they deserve their own time, space and respect. They are the da ma - middle-aged, retired women, freed from the constraints of work and raising children - who dance in public spaces around the country in the mornings and evenings. However, this seemingly innocent and healthy pursuit has
Introducing the not-so-loudspeaker

A prototype high-tech amplifier designed by a group of college students may spell an end to quarrels and fights between elderly dancing enthusiasts and their annoyed neighbors.

Standing next to a tripod with a projector at the apex, Zhu Liya, a student at the School of Media and Design at Shanghai Jiao Tong University, described how her team was inspired to build the machine when they attended a design workshop at the Sony Explora Science Museum in Beijing at the end of July.

"Dancing is good for both the mental and bodily health of retired women," the 20-year-old says, adding that she has conducted a survey of the dancers that confirmed the benefits.

"We also understand how a noisy loudspeaker may affect many other people who don't get up as early as these elderly women," Zhu says.
"Dancing in the square" has become a catchphrase for the tensions that have arisen between the women, who play music through loudspeakers and dance in public places, and their neighbors who are disturbed by the noise.
Reported cases include elderly dancers being sued, physically attacked and, in one extreme case, even had human feces thrown at them by angry neighbors, but the abuse obviously hasn't dampened their passion for the activity.
"If the conflict is all about the noise, technology and design can resolve it," Zhu says.
Under the guidance and support of industrial designers from Sony China, Zhu and her teammates designed a speaker that could eradicate the problem once and all.
The speaker, called the "Dazzling Dancing Mate", uses a highly directional audiobeam speaker that can project sound in a specific direction and control the range of transmission.
"That means those within the speaker's transmission range, for example the dancers, will hear the music, but those outside the range, such as neighbors, won't," Zhu says.
The device is equipped with three loudspeakers that can broadcast audio within a specified range, coupled with the top projector that has a camera that rotates a full 360 degrees to capture the dancers' steps and automatically project a range of lighting effects.
"There is applied technology in the field already, so we believe our design will become a real product in the near future," Zhu says.
Sony's has held its student design workshop in China for eight years - appropriately, this year the theme is "wellness".
In collaboration with universities, the program aims to provide a platform to combine advanced media and Internet technology with creative, curious young oncampus talent.
Four designs by 16 students were exhibited, including the "Dazzling Dancing Mate", a musical toothbrush designed for children who dislike brushing their teeth, and an intelligent running mate for the rising number of joggers in China.
"We encourage students to look into the details of daily life around them and to care about people who have troubles," said Zhong Hongsheng, a renowned designer from Sony China's Innovation Center. "The students' designs can become functional products within five years."
- Wang Ru
hit the headlines, pitted neighbor against neighbor, and provoked widespread debate.
These elderly ladies have been blamed for taking up too much public space and dancing in the wrong places, such as rail stations and highways, and even in front of the Louvre in Paris and Red Square in Moscow. Moreover, the loud, amplified music they use has irritated neighbors, who have fought back in a variety of ways, such as shooting guns in the air and using loudspeakers to drown out the 'noise'. In some areas, the fraught situation has led local governments to formulate laws to limit the times and locations of the dances.
"It's become a national phenomenon, rather than a neighborhood problem," according to retired Beijing resident Hu Guozhen, 57, who took up public dancing around three years ago. "But it brings us great joy, and we have done our best to compromise, such as turning down the music and shortening the duration of the dancing period."
Every evening at 7:30 - weather permitting - Hu dances in a square at a shopping mall near her house in Majiapu, in the Fengtai district of Beijing. During the two-hour sessions, she and about 30 others dance to 20 songs played on a brick-sized portable music player.
Hu says the pastime has helped her lose weight and improved the quality of her sleep. In addition to the health benefits, she says dancing brings her spiritual joy and helps her feel young.
"My life was boring and I was isolated after I retired. I just spent my days cooking and cleaning the house. I made lots of friends after I started dancing, and I'm happy to share my life with people of my own age," she says.
The activity also helps her to keep up with the latest fashions and musical trends. At the moment, her favorite song is Little Apple by the duo Chopstick Brothers. Hu's group often dances along to the song, even though its simplistic beat and lyrics have led some commentators to describe it as "brain washing". The team also goes shopping as a group to buy suitable clothes for the dancing sessions.
According to Du Peng, chief of the Institute of Gerontology at Renmin University of China, the dancing craze among retired people can be attributed to a psychological change among the nation's elderly population.
By the end of 2013, there were more than 200 million people aged 60 and older in China, accounting for nearly 15 percent of the population, and around 83 percent of people in that age group engage in some sort of physical activity.
"In the past, they had less entertainment, but now they want a range of activities," Du says. "Meanwhile, elderly people are much more educated nowadays and they need to enrich their lives during retirement."
Du points out that the furor about public dancing is a consequence of China's rapidly aging society, which is something the government should be aware of.
Wang Baorong, who dances with 200 people aged from 45 to 75 every day from 8 am till noon, echoes that view: "The traditional image of elderly women in China is of people with white hair, a little out of shape, and wearing dark-colored clothing. But now, we are different."
On the weekend of Aug 23 and 24, Wang, 71, decked out in an army-style shirt, shorts and fishnet stockings, participated in a dance competition. "Are old people supposed to sit around and wait for death? No. We still have our beautiful days," she says.
Zhou Yehong, a 44-year-old office worker at a bank in Luohe, Henan province, started dancing in 2006. Examples of her choreography, which she posted online, have been viewed nearly 100 million times. Known as Mei Jiu, which means "Lasting Beauty", Zhou led her team in a performance at a variety show broadcast by China Central Television.
"My husband and daughter were against the dance craze because they thought we were too crazy and spent too much time on it," Zhou says. "But now they are beginning to change their attitudes. I asked them to dance with me and to feel the atmosphere. Chinese da ma have devoted half of their lives to their families and working for the good of society. Why can't we have fun in our own right?"
Contact the author at: chennan@chinadaily.com.cn