"It took a while of swinging and massaging them before you could walk again."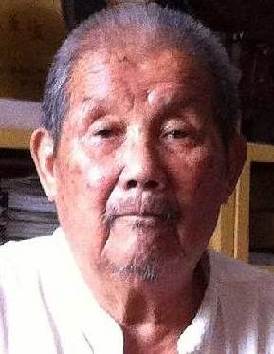 Liu Baoshan is the board chairman of the Shaolin Tagou Education Group.
Kung fu for everyone
When Liu Baoshan created the Shaolin Tagou Martial Arts School 36 years ago, he had only one student.
But with increasing interest in kung fu and its evolving image on the back of the country's development, Liu now boasts 35,000 students in six schools.
"The growing number of kung fu learners is a result of social development," the 83-year-old said.
Liu, board chairman of the Shaolin Tagou Education Group, said that his ancestors had learned martial arts at the Shaolin Temple, China's most famous Buddhism monastery, starting from the Qing Dynasty (1644-1911).
Liu started to teach martial arts in his 20s, but the government prohibited the practice in the 1950s since some kung fu groups had become criminal gangs then.
The ban on martial arts was lifted in 1959 after some kung fu practitioners took part in an international competition and struck gold, he said. Still, Liu could not charge for his kung fu lessons since private businesses were not allowed during the "cultural revolution" (1966-76).
The situation remained unchanged until 1978, when the Communist Party of China launched the reform and opening-up policy. The reform, pushed forward by late leader Deng Xiaoping, legalized private enterprises.
"More and more people want to learn martial arts since it can make them healthier," Liu said, adding that the number of students has been growing by 1,000 annually.
The Shaolin Tagou Education Group includes primary, middle, occupational and international schools to meet the demand of different learners.
"We have continued to attend international competitions and large performances in recent years, which has helped build our reputation," Liu said. His group's students have performed in State broadcaster China Central Television's Spring Festival gala for 12 years.
The students have won 379 gold medals in the Olympics Games and other world-class competitions, according to figures from the group.
"We are optimistic about the future of our group and its kung fu since more people are making sports a higher priority," he said.
By An Baijie
Students also had to endure the heat from training outdoors under the blazing sun in Nanjing, which is famous for its high temperatures in summer.
Still, the Tagou students have learned to stay upbeat amid hardship after years of high-intensity martial arts training.
"We are proud that we fulfilled the assignment again and delivered to the whole world," said Tagou school teacher Zhang Jiwu.
Training ground
The Shaolin Tagou Martial Arts School, located near Shaolin Temple in Dengfeng at the foot of Henan's Songshan Mountain, has participated in a series of major ceremonies at grand events, including the opening and closing ceremonies of the 2008 Beijing Olympic Games and Paralympic Games, the opening and closing ceremonies of the Guangzhou Asian Games, and 12 consecutive CCTV Spring Festival galas.
Tagou was established in 1978 when the government lifted the ban on private business. Its students range from those in kindergarten to the elderly. They come from all parts of the country to enroll in martial arts courses that take up to 14 years. The training costs about 5,000 yuan ($814) a year.
Shi Linlei, 16, a middle-school student who started training at Tagou three years ago, said that the physical training is harsher than what he had expected.
"At the beginning, I could not help crying when I called my mom and told her about the life here," he said.
"The coaches are strict and there are no entertainment facilities like karaoke or cyberbars in the school."
Shi said that he managed to get used to the tough training within a month, after the coaches gave them advice and helped them when they encountered difficulties.
The students also started to get along well with each other after several weeks because they are always told to be "polite and selfless", he said.
Pan Guili, a businesswoman in Changsha, capital of Hunan province, said that even though her relatives had warned her about the possible violence in martial art schools, she still sent her 14-year-old son to one of them in early March.
Pan worried a lot about her son when he complained about being bullied by other students at the beginning of his training in the school.
"I told him that as a man, you should be strong and accept the rules there," said Pan, who went to see her son on Aug 21.
"He has to live on his own or he will not get by when he enters society and starts looking for a job," she said.
Importance of ethics
Liu Baoshan, 83, board chairman of the Shaolin Tagou Education Group, which runs six schools, including the Shaolin Tagou Martial Arts School, said ethics are an important part of its education.
"I have been concerned with one question for decades after I established the school - will the students become talented martial artists or rogues?" he said.
That is why teaching ethics is the top priority for the 35,000-odd students in the six schools of the education group, he said.
"Before learning martial arts, we should learn virtue first. The students are given ethics courses every day," said Yang Songpo, a coach who taught in the Shaolin Tagou Martial Arts School for three years.
Some newcomers might not understand why they have to go through so many ethics courses, but they will gradually realize the importance of virtue, he said.
Many of the students are also "left-behind children", whose parents have migrated to urban areas for work and left them in their rural homes. To foster better interaction and build teacher-student ties, coaches also live with their students in dormitories, eat with them in cafeterias and play games with them, Yang said.
"We are strict with the students in training and we are nice to them in their daily life," he said. Such an approach helps, Yang said, citing an example of a rebellious student who improved his behavior and attitude after the teacher took care of him when he was ill.
Zhao Yibo, a teacher with the publicity department of the Shaolin Tagou Education Group, said that the students seem to be in high demand during the People's Liberation Army's Special Forces recruitment exercises.
"Because of their excellent physical condition, many students have become police officers and soldiers," he said, adding that 48 students became SWAT members of Guizhou province in April.
Many students also choose to start an enterprise and teach martial arts after graduation, Zhao said.
"We teachers and coaches will do what we can to help the students fulfill their dreams," he said.
"When my mom told me on the phone that she had watched the TV program and saw our aerial dance 'Build the Dream' during the 2014 Nanjing Youth Olympic Games opening ceremony, I felt that all my hard training had paid off," said 16-year-old student Shi Linlei.
Contact the writers at sunxiaochen@chinadaily.com.cn and anbaijie@chinadaily.com.cn