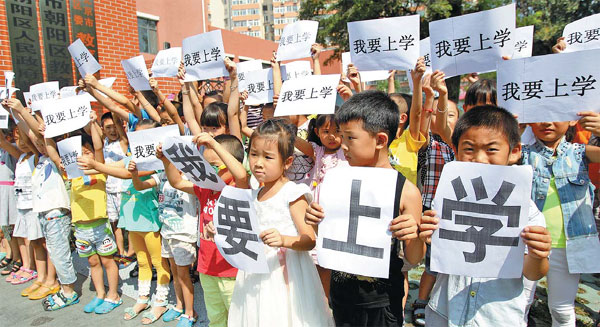 Children of migrant workers in Beijing gather in front of the Chaoyang district education commission on Aug 15 to demand for access to local schooling. Zhang Wei / China Daily
Latest reform in household registration system aims to plug rural-urban gaps, report Zhang Yan and Wang Qian in Beijing.
Every day since June, 6-year-old Sun Jiayi has been at the front line of a demonstration in Beijing, demanding to attend primary school in September.
 Measures to manage growing population of large cities
Large Chinese cities including Beijing, Shanghai and Guangzhou will roll out more measures to manage the growing urban population and address concerns and challenges like traffic, housing, education and healthcare, the State Council said in its latest guidelines on household reform.
China's household registration or hukou system covers a Chinese citizen's legal residence in a city and provides access to various social services and benefits like healthcare and education.
In the past decade, metropolitan areas with more than 10 million residents such as Beijing, Shanghai and Guangzhou have all experienced annual population growth of about half a million on average, said Huang Ming, vice-minister of public security.
Local governments will set different household registration thresholds based on their ability to absorb migrants and workers' contributions to the development of the city, and give them access to public services. "That might include setting up a points system based on applicants' living and employment conditions to manage the flow of rural residents to the major cities," he said.
Populous urban areas such as Shanghai, Tianjin and cities in Zhejiang and Guangdong provinces have been using a points system - similar to green card application in the US - to standardize procedures for the migrant population to apply for residence permits, and more large cities will follow it, he said.
Migrants will settle in small cities freely as the hukou restrictions are removed, but limits in medium-sized cities will be relaxed " in an orderly manner", according to the State Council.
The number of migrant workers flowing into big cities with populations of 3 to 5 million will be "appropriately" managed. Movements into big cities with more than 5 million people, such as Beijing, Shanghai and Guangzhou, will be "strictly" controlled, it said.
Policies will also favor rural migrants who have worked in the cities for long periods of time and skilled workers who will contribute more to the cities' development, according to the guidelines.
"The population pressure is indeed heavy in big cities," said Wu Xianjiang, a professor from People's Public Security University of China who researches household registration reform and population issues.
Strictly controlling the population growth in mega-cities is "conducive to the healthy development of urbanization and rational allocation of social resources between rural and urban residents", he said.
Zhang Yan
Dozens of children are part of the demonstration. They hold placards with the words "I want to go to school" printed on them. The demonstrators are children of migrant workers who say they have been denied schooling by the local education authorities.
"We have been working in Beijing for 15 years, paying taxes and contributing to the city's development. But my daughter is not allowed to attend school because we do not have Beijing hukou," Chen Ping, a mother of a 6-year-old girl, said in front of the Chaoyang district education commission.
The hukou or household registration system was introduced in 1958. It categorizes the Chinese population into rural and urban groups. Those from rural areas cannot access urban services and facilities including schools, hospitals, housing and eldercare.
Access to education is one of the major issues of concern for the numerous migrant workers who head to urban areas and set up families in the cities, where authorities increasingly realize they cannot ignore the integration of the workers with the resident population.
Faced with increasing criticism of the discrimination under the hukou system, Chinese authorities recently announced plans to gradually give rural migrants full access to services including education, healthcare, housing and social insurance.
Chen and her husband left their small village in Hebei province in 1999 to work in Beijing. Chen works as a trainer for accountants, and her husband is a property salesman in the capital. Their daughter was born in Beijing and grew up in the city but she is still registered as coming from a rural household.
Strict requirements
Beijing municipal authorities allow migrants to send their children to local schools, but they must provide documents, including proof of social security entitlement, work contracts and temporary residence permits.
"My company didn't make social security payments for me so I couldn't get the certificate needed for my daughter to attend school," Chen said. The desperate mother said she cried and knelt at the local education office but no school would accept her daughter.
"I will not give up. I will come here every day until the new semester begins in the fall," Chen said.
Migrant workers' children who cannot attend urban schools are a common problem throughout the country. Other major cities such as Shanghai, Chengdu and Guangzhou also have tens of thousands of children with no access to education.
In the past two months, hundreds of migrant parents and children in Beijing have been protesting against the treatment in front of the Chaoyang education commission. About 60 parents have filed lawsuits against the commission, but the courts rejected them.
Other parents have submitted petitions to the Ministry of Education, Beijing Municipal Government and the State Bureau for Letters and Calls seeking redress.
"Local police and authorities have told us to stop our activities and threatened to move us out of Beijing if we continue to do so," said Cheng Xuejiao, one of the petitioners from Fujian province whose six-year-old son cannot attend primary school this September because the family cannot provide an applicable residence permit.
Cheng and her husband have been managing a building materials company in Fengtai district in Beijing since 2007. They have almost no family members left in Fujian province.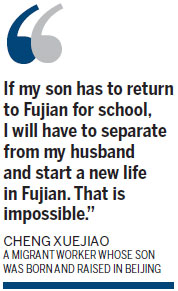 Cheng Xuejiao said her son will have to attend school in Fujian, where he is registered under the hukou system, if he cannot do so in Beijing.
"I want to go to school and stay with my parents in Beijing," said her son Dongdong. He was born and raised in Beijing and cannot understand the Fujian accent.
"If my son has to return to Fujian for school, I will have to separate from my husband and start a new life in Fujian. That is impossible," Cheng said.
Sun Qijun from the Chaoyang district education commission said the authorities have issued certificates for attending schools in Beijing to migrants' children with complete documentation and are "persuading a large number of 'unqualified' migrant children to return to their registered locations to attend school".