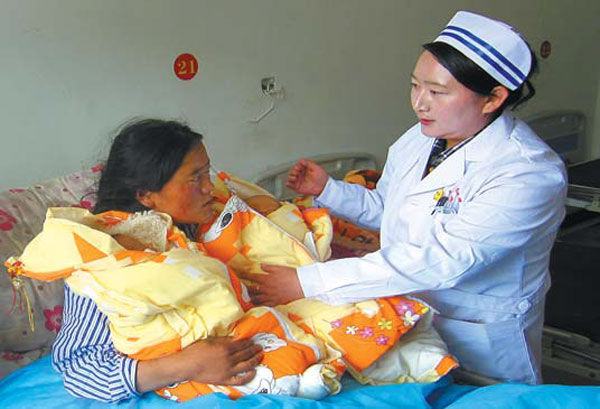 A medical worker at the Dzatod County People's Hospital in Yushu on Aug 6 attends to 23-year-old Gartsok and her newborn twins. Yang Wanli / China Daily



Protecting medical heritage

The rebuilding of Yushu Prefecture Tibetan Medicine Hospital has also renewed interest in traditional Tibetan medicine.

"Following the earthquake, our treatments have helped many people with stomach ailments or diseases related to the liver," said Chimed Palmo, a physician at the hospital.

She said most residents in Yushu are Tibetans but Tibetan medicine is also highly regarded among other ethnic groups.

The new hospital with four floors opened in 2013 with help from donations from the Red Cross Society of Fujian province. On the top floor, there is an exhibition hall presenting Tangka, traditional Tibetan paintings, that depict the human organs, herbs and health exercises.

The hospital also set up a small museum for free public viewing. Exhibits include samples of Tibetan medicine and figures of Medicine Buda, who is the patron saint of Tibetan medicine. Iron surgical instruments used in ancient times can also be found in the museum.

"We wanted to protect these relics and keep the spirit of traditional Tibetan medicine alive. It is not only life-saving medicine. It also reflects a culture that should be protected," said Gelek Gyatso, director of the hospital's Tibetan Medicine Research Office.

Tracking donations

The Red Cross Society of China and its branches have donated a total of 2.6 billion yuan ($422.9 million) to help 94 rebuilding projects in the Yushu Tibetan autonomous prefecture after the earthquake in 2010.

To promote financial transparency and allow donors to track their donations, the Red Cross Society of Qinghai created a link on its website to access a data system recording about 96,000 donations to date.

Each entry shows the amount of the donation and where it came from. It also includes the project being covered by the funds as well as its completion date.

"Anyone can log in and access the information, including those who want to know whether the donations have been distributed to the intended recipients or whether the funds have been used in the areas that most need them," said Sun Lin, deputy director of the Red Cross Society of Qinghai.

He said the information provided in the system is updated every day and the name of the company responsible for the construction work is presented on the website. The contractors for the projects were all also selected through public bidding.

"Photos and videos about the development of the projects are also available," Sun said.

"Each donation reflects the donor's love and concern for the victims. The work and construction supported by the funds should be made public."