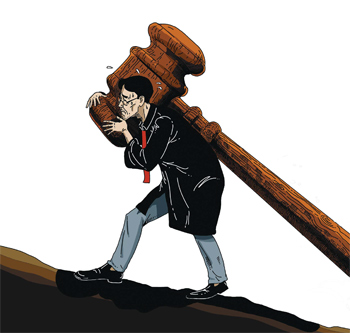 Latest judicial reform aims to plug talent drain and improve selection process, reports Cao Yin in Beijing.
After hesitating for a year, Zhang Wei finally decided to return the court the black robe he had worn for 16 years. The 39-year-old former judge resigned from a Beijing suburban court on July 15, citing administrative obstacles in the judicial environment, work pressure and inadequate pay as some of the reasons for giving up the profession he once loved.
Zhang was not alone among the 200,000 judges in China.
The Chinese capital has lost more than 500 judges in the past five years and the number is increasing, statistics released in March by the Beijing High People's Court during the annual "two sessions" of the country's political advisory and legislative bodies showed.
To stem the drain, China's top court has issued a five-year plan. The move is in line with the judicial reform raised by the central government in November, which aims to resolve the legal challenges of recent years such as administrative obstacles in judgments and judges' resignations.
"We want to simplify the process and ensure the quality of the judiciary," said He Xiaorong, director of the judicial reform office with the top court.
Improving environment
Enhancing public awareness of legal issues and getting authorities up to speed with the changes will help the rollout of the latest judicial reform, an official of the Supreme People's Court said.
The moves to push for the judicial reform, raised by the central government in November, have been viewed as providing a clear direction for Chinese courts to explore legal areas such as building intellectual property tribunals and hearing environmental cases beyond the administrative regions where such cases occur.
Tribunals for hearing intellectual property disputes have already been set up in Beijing and Shanghai as well as Guangdong province to help improve the professionalism of the legal sector, according to the five-year plan (2014-2018) of Chinese courts.
But the reform should be carried out in an improved legal environment where people can better understand judges' work and how they resolve legal disputes, said He Xiaorong, director of the judicial reform office with the top court.
If a dispute is being dragged down by nonlegal issues such as unreasonable petitions, it will be difficult for the reform to move forward, he said.
"It's not only necessary to improve a judge's ability to hear a case, it's also crucial for the public to develop a sense of judicial and legal issues," he said.
Other agencies and judicial organs such as the finance department handling judges' earnings as well as the human resources department should also be involved in the reform, he said.
"These joint efforts can help accelerate the reform and its enforcement, and allow judges to handle their trial work better," he said.
Many young judges might be finding it tough to navigate the current judicial environment but the latest reform can provide a better platform for their work and career prospects, he said.
The measures will include addressing how quotas on judges are set and the preference given to seniority in selecting the judiciary, he said.
"In other words, the quota for judges will not be decided based on a judicial member's seniority," He said.
Legal professionals lauded the top court's moves, but some, like Beijing-based lawyer Yi Shenghua, said setting higher thresholds for judges is more crucial to stop the resignations.
Better job recognition and removing obstacles to judgments are also important to prevent those like Zhang Wei from leaving, Yi said.
Work challenges
Zhang became a judge in 2008 after graduating from a law school, passing the requisite civil servant exams and clocking in several years' experience.
He was initially proud of his career and worked with passion, striving to give fair and reasonable verdicts.
"I aimed for dignity and professionalism," Zhang said.
But in the winter of 2011, he met some of his first major problems at work.
Zhang threw out a case involving a 78-year-old man who wanted to get back a house that he sold several years ago in Beijing's Shunyi district because he said the house had some items that he did not want to sell.
He appealed to Zhang's court, but Zhang announced the purchase legal and complete.
"The case application was against legal procedures. The old man shouted at me at the gate of my court for about a month," Zhang said.
Zhang said no one offered to resolve the issue and the litigant even went to his court twice a day to curse him.
Sometimes, similarly disgruntled women also threatened him and pulled at his robe when the court did not accept their appeal in certain cases, he said.
Several weeks before Zhang quit, an elderly litigant also rushed up to him during a hearing and broke his gavel after the judge dismissed the senior's appeal in accordance with the law.
"I knew they weren't familiar with the law, but I couldn't help but feel dishonored and disheartened by such extreme behavior. My salary, at about 5,500 yuan ($900), was also hardly enough to raise my family," Zhang said.
These instances of abuse and lack of respect began to erode his passion for his work, Zhang said.
Another major problem is related to verdicts, Zhang said, as some of his judgments had to be referred to his judicial superiors.