The sport is growing in popularity as an increasing number of people look forward to a life on the ocean wave.
Summer is the peak time for tourists in Qingdao, a coastal city in Shandong province dubbed China's "sailing capital".
Early morning and sunset are the best times to promenade around the marina at the Qingdao Olympic Sailing Center. The sea breeze is refreshingly cool, and the visitor can spend quality time admiring the different types of boats, from the small - less than 9 meters from bow to stern - to marine mammoths more than 26 meters in length.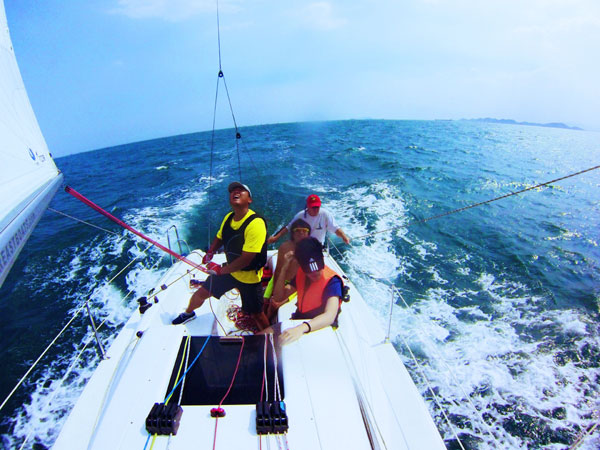 Sailing has become a popular outdoor team-building exercise in China.[Pan Ping/For China Daily]
During the day, the area becomes a bustling hive of maritime activity. Newlyweds posed for wedding photos on the decks of yachts, while the touts call out to the tourists, "Go yachting, 100 yuan ($16.17) per person." The price may be low, but the downside is that large numbers of people are crowded on a boat for less than 30 minutes.
One yacht broker at the marina said: "In the aftermath of the 2008 Olympic Games, there were only about 20 yachts docked here, now there are more than 200."
In 2012, there were about 3,000 yachts in China, but the number is expected to rise to 100,000 by 2020, when the value of the Chinese yachting sector is projected to be 50 billion yuan, according to a 2013 report from the China Cruise & Yacht Industry Association.
Liu Dianfang, chairman of the local yacht industry association in Xiamen, Fujian province said: "The whole industry looks promising. Yet the projected figure of 50 billion yuan is an exaggeration, and China is not ready for it. There is also a cultural difference in China in terms of yachting, so it will take time for Chinese culture to catch up."
Although new marinas and yachting-based infrastructure have sprung up along China's coast since 2008, the yachting culture is still at a nascent stage compared with countries in the West.
Status symbol
For wealthy Chinese business magnates, the marine culture is also a business culture, because ownership of a yacht is seen as a symbol of wealth - one that distinguishes billionaires from millionaires.
The Haier, a Sunseeker 88 that cost more than 50 million yuan, takes pride of place at Qingdao's Olympic Sailing Center. It's one of four yachts owned by Haier Group, a well-known consumer electronic and home appliance company headquartered in Qingdao. All of the company's vessels are used as venues for business receptions.
"Summer is a busy time. I have to prepare receptions on The Haier every two or three days," Mu Bing, the director of the company's yacht club, said, adding that the management fees for the Sunseeker 88, which include regular maintenance and cleaning, are about 1 million yuan per annum, and the insurance costs about 800,000 yuan a year.
According to Hou Haiqing from the Qingdao International Yachting Club, the yachting culture is gaining greater recognition among a growing number of large Chinese big companies, who see sailing as a perfect way to bolster team performance.
"Sailing has become a popular outdoor team-building program for large business because it calls for a strong sense of leadership, teamwork, coping with changing conditions, and a great deal of tactical expertise," said Hou, who has been working in the local yachting sector since 2008.
"Now, many companies have expanded their employees' outward-bound training to the sea. We've organized training sessions for many large companies in China, including Exxon Mobil, Walt Disney, McKinsey and Volkswagen."
Hou's club, the Qingdao International Yachting Club, owns about 50 vessels, including large engine-powered craft and sail boats.
There are more than 450 berths at the Olympic Sailing Center, all managed by Hou's club, which is State-owned, as part of the Qingdao City Construction Investment Group.
At the Olympic marina, annual rental fees for a berth range from 30,000 to 300,000 yuan, depending on the vessel's length and the position of the berth.
Loik Morgant, a veteran yachting consultant based in Qingdao, is a native of Brest, a port in northwestern France. The 45-year-old recalled that in 2005, very few people in Qingdao knew anything about sailing.
"The Chinese government wanted to promote sailing in preparation for the 2008 Olympic Games, so they asked the French Sailing Federation to invite technical and sailing coaches to come to Qingdao. At the time, I was working at the FSF, so I came to Qingdao in 2005."
Morgant and his two partners quickly realized the enormous potential of China's fledgling yachting industry, and established consultancy called CAPE-10, based in the Olympic marina. CAPE-10 - a play on "Captain", which is Morgant's nickname among the local community - is also the only official broker for Beneteau, a leading French yacht manufacturer, in Shandong and the neighboring provinces.
"At the time, there were very few dealers and consultants. We were one of the first foreign brands to establish an office in Qingdao in 2009," Morgant said, adding that the industry boomed in the wake of Olympics and lot of large boats arrived in Qingdao.
Related: Peace of mind and opportunities