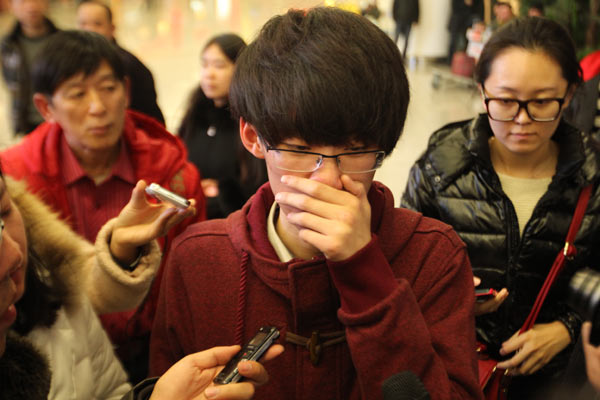 A 21-year-old student (third from left), who identified himself only as Gong was still in an emotional state after his fl ight touched down on Tuesday evening. The instrument panel of the MA-60 regional jet carrying 38 passengers indicated a landing gear malfunction as the pilots prepared to land. PROVIDED TO CHINA DAILY
Aircraft have had a host of problems in recent years, Zhao Lei and Wang Wen report in Beijing.
The Chinese aircraft manufacturer AVIC Xi'an Aircraft Industry Group said it has applied to the aviation authorities for permission to ground some of its (Modern Ark) MA-60 regional planes operating nationwide.
The request came after an incident on Tuesday when a systems malfunction resulted in an MA-60 circling Shenyang Taoxian International Airport in Liaoniong province for more than two hours as the pilots and ground staff attempted to solve the problem.
Just as the pilots were about to initiate the landing procedure, the plane's instrument panel indicated a malfunction in the undercarriage. The pilots descended to low altitude and requested that air controllers observe the undercarriage to assess if it was working correctly before they attempted to land the plane, according to a report on China Central Television that cited sources within the Civil Aviation Administration of China.
Some of the passengers left the airport's main hall in tears after Flight BK2870, operated by the Beijing-headquartered budget carrier Okay Airways, finally landed safely more than two and half hours later than scheduled. No casualties were reported.
A 21-year-old student, who identified himself only as Gong, was among the passengers. "The plane circled the airport for more than two hours, and some passengers became quite emotional despite the cabin crew's attempts to keep us calm," he said.
Although the MA-60 was scheduled to fly to Yanji in neighboring Jilin province via Shenyang, the rest of the flight was cancelled. Of the 22 passengers bound for Yanji, 14 were either given a refund or changed their tickets for later flights, the remaining eight were offered accommodation at a local hotel, according to airport sources.
Despite the statement from Xi'an Aircraft Industry, Zhong Ning, head of publicity at the Civil Aviation Administration of China, said: "As of Wednesday afternoon, the administration has not received an application from Xi'an Aircraft Industry regarding the suspension of MA-60's in service with domestic airlines."
"The administration has requested full cooperation from the company in the investigation so the cause of the malfunction can be identified as soon as possible," he added.