Rich increasingly seeking answers to questions of destiny, report Peng Yining and He Na in Beijing.
In a classroom at Peking University School of Economics, the students pored over their calculations, just as countless preceding generations had done. But the people in this class were not regular scholars - instead, they represented China's business elite, including chief executive officers of major companies, entrepreneurs and financiers.
All were busy divining their destinies in a feng shui class. They hoped to gain insight into the ancient Chinese method of geomancy, which has become an important part of the school's Executive Master of Business Administration program.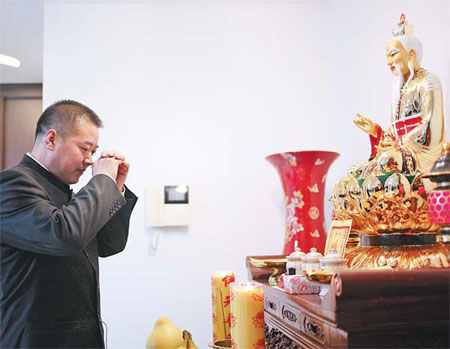 Qi Yingjie, a feng shui master, prays for good fortune at his Beijing office. Wang Jing / China Daily 
Using a set formula in conjunction with their dates of birth, the students were attempting to discern their ming, or fate, including career and marriage prospects, and also attempting to attract greater fortune by learning how to decorate their offices and align furniture in accordance with the basic tenets of feng shui.
The 43-year-old lecturer, Qi Yingjie, introduced himself via a slideshow as a "feng shui master" and, dressed in a traditional black tunic suit, he strolled between the desks as the students added, subtracted, multiplied and divided according to the formula.
"Use the formula and you will discover your destiny," intoned the former farmer and vegetable vendor, as he lectured the class of executives.
During a break, the students surrounded him, firing off questions: "Would it be bad feng shui to place a cupboard beside my bed?"; "My son loses his temper at home for no reason, can feng shui help solve the problem?"; "My wife and I often fight. Do I need to reconsider the feng shui of our apartment?"
One particular question aroused Qi's attention. "The door of my apartment faces southwest and I put a bookshelf in the northwest corner of the room. Is that good feng shui?" a middle aged man, who wore a shiny gold watch, asked.
Frowning with concentration, the master scanned the sheet of paper and announced: "The door is fine, but you have to move the bookshelf from the northwest corner, because your chart shows that it will suppress your future development."
"Goldwatch" wanted to ask more questions, but a fan who wanted to take a photo with the master dragged him away."