The passing of Cambodia's former king highlights close ties between the two countries, Li Xiaokun and Zhao Shengnan report in Beijing.
Norodom Sihanouk, the former king of Cambodia, passed away in Beijing at the age of 90 early on Monday morning. Having lived in exile in China, Sihanouk often referred to the country as his "second homeland", and it was from China that he received his strongest political support in times of adversity, plus almost all his medical treatment in the last years of his life after being diagnosed with prostate cancer in 1994.
The news of Sihanouk's death reminded many people of the decades the late monarch had spent in China since the 1950s. China Central Television's news channel, which has recently been dominated by reports of territorial disputes with Japan, spent most of Monday covering the death and remembering the former king. Social networking sites, such as Sina Weibo, were flooded with condolences and reminiscences of the former Cambodian leader.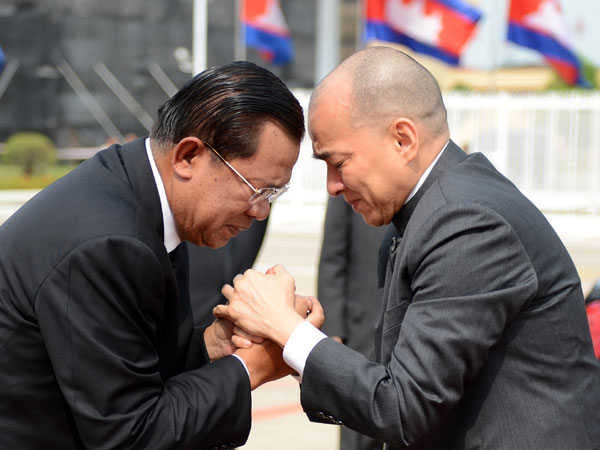 Cambodian Prime Minister Hun Sen (left) offers his sympathies to his king, Norodom Sihamoni, in Phnom Penh on Monday ahead of their departure for Beijing after the death of former Cambodian king, Norodom Sihanouk. Agence France-Presse
Official statements said that Sihanouk died in hospital at 2:20 am, citing natural causes. The former king, who had cancer, diabetes and hypertension, had been receiving treatment in Beijing for several years.
China expressed the deep respect it felt for the "great friend of the Chinese people", as the Foreign Ministry described Sihanouk in a statement.
President Hu Jintao said in a letter of condolence that Sihanouk's outstanding contribution to China-Cambodia ties will be imprinted in history.
China is keen to work with Cambodia to enhance the tradition of cooperation left by Sihanouk and Chinese leaders, Hu said.
Vice-President Xi Jinping visited Sihanouk's wife, Monineath, in Beijing. He stood in silence in front of a portrait of the deceased monarch. "We are deeply shocked and grief-stricken," he said.
Foreign Minister Yang Jiechi met Cambodia's current ruler, King Norodom Sihamoni, and Prime Minister Hun Sen when they arrived on Monday afternoon to accompany Sihanouk's body on the journey back to his homeland. Three Buddhist monks, led by Noy Chreok, the third vice-patriarch of Cambodia's Buddhist monks, accompanied the king and prime minister.
In January, Sihanouk had requested that his body be cremated and his ashes placed in an urn, preferably one made of gold, then enclosed in a stupa at the Cambodian royal palace.
The hospital where Sihanouk died is close to his residence in the heart of Beijing, which was put at his disposal by the late premier Zhou Enlai in 1970.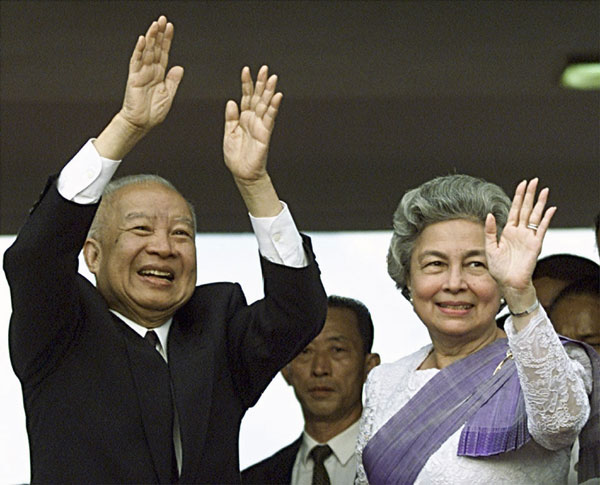 King Norodom Sihanouk and Queen Monineath wave to the crowd on their arrival at the annual boat racing festival in Phnom Penh in this Oct 30, 2001 file photo. Chor Sokunthea / Reuters / Files
Born in 1922, Sihanouk was king of Cambodia twice, from 1941 to 1955 and then from 1993 until he abdicated in 2004, in favor of his son, the current king.