Workplace-related stress is pushing some officials to the breaking point and even worse. He Na reports from Beijing.
'I feel as though I can't breathe." "I'm under too much pressure." "My life is meaningless." "I don't derive any sense of achievement from my work, but I still have to do so much."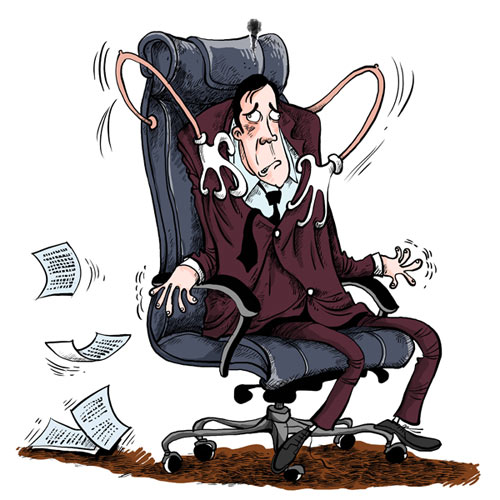 These sentiments are typical of the way stressed public servants outline their problems when seeking psychological counseling from Shi Zhanbiao, director of the mental health counseling and services center for employees of central state organs, and the problem is getting worse. "We've seen outpatient numbers increasing steadily year after year," he said.
A recent survey of 2,239 public servants from 20 different central state organs found that 63.3 percent of those interviewed complained of moderate and above-average levels of stress, while 13.5 percent suffered severe or extreme stress, resulting in acute anxiety, insomnia and depression.
The joint survey was conducted by the Central State Organs Trade Union Federation and Institute of Psychology at the Chinese Academy of Sciences.
"The psychological status of public servants does not promote optimism. Many are in a state of emotional and physical exhaustion caused by excessive and prolonged stress," said Yao Zhiping, chairman of the Central State Organs Trade Union Federation, at a psychological forum held in Beijing in late August.
Li Xianyun, associate director of the Beijing Suicide Research and Prevention Center, confirmed that in recent years the number of public servants seeking psychological help via the center's suicide prevention hotline, online consultancy service and face-to-face treatment has been rising.
"To the average man on the street, public servants have little to worry about. They have decent jobs, high social status, money and they enjoy certain advantages. But they are also human beings who are vulnerable to mental illness," said Li. "They are always pigeonholed as belonging to a special group of workers and that can lead to heavy pressures that many people may not be aware of," he added.
If they don't receive treatment to control the growth of the illness at an appropriate time, they can easily go to extremes, just like others suffering from depression, she said.
Of course, depression and other mental health issues are not limited to public servants. Data released by the Chinese Center for Disease Control and Prevention show that the number of people diagnosed with various types of mental disorders surpassed 100 million in 2009, with 16 million classified as having a "severe" mental health issue.
Heavy workload
The main factors contributing to stress and depression among public servants include heavy workloads, overwhelming responsibility, high public expectations, lack of opportunities for promotion and the incessant scrutiny that's intended to root out and prevent corruption, according to experts.
Most public servants are faced with huge workloads, leaving little time for leisure. That can lead to a deterioration in both their physical and mental health, said Zhao Junyan, a psychiatrist at Capital Normal University in Beijing.
"There are six people in my section, but it seems like I do all the work. My phone is on 24 hours a day, and no one cares if I spend most of the weekend either in the office or working on the reception desk," said a civil servant from Beijing, who spoke on condition of anonymity.
"I often have the impulse to push all the documents and materials on my desk to the floor in front of them, but instead I have to pretend to smile. It's really disgusting. I often vent my anger on my parents without reason. My mother jokes that I'm as prickly as a hedgehog, " said the 34-year-old official. "I need to change, or I'll go mad."
"We're duty-bound to protect patients' privacy, so I cannot discuss specific cases. But there's one thing to highlight: Whether it's public servants or other people suffering depression, they are generally shy and feel ashamed to discuss the matter with a doctor," said Si Tianmei, director of the department of clinical pharmacology at Peking University's Institute of Mental Health.
Zhao Junyan has drawn the same conclusion. "Chinese people worry a lot about losing face and, as a group, public servants place an even greater emphasis on this. I know several middle-level officials and, to tell the truth, they will even try to disguise a physical illness, so talking about mental health issues, let alone seeking psychological help, is anathema to them."
Such secrecy is understandable: An official diagnosis of depression could have a negative impact on the lives and work of these officials, as their decisions may be questioned and their prospects may be damaged. "No one wants to lose the long-awaited chance of promotion," said Zhao.
Intense workplace competition is also a factor, according to Zhao. That can be easily gauged by the huge numbers of people applying to take the public servants' entrance examination. Often the sheer weight of traffic causes the examination board's website to crash.
"Admitting that a psychological problem exists is the biggest taboo, one that can prevent timely, effective treatment. Early detection and treatment are vital in cases such as this. Otherwise, over the course of time, all types of stress will accumulate, and a rapid deterioration in the patient's physical and mental health could mean that suicide is inevitable," said Si Tianmei.
"I know that one hospital in Beijing has established a sleep clinic for insomniacs. I heard from the staff that many of those who visit for consultation are public servants, and middle-level cadres make up the majority," said Zhao.
Social media pressure
Shi Zhanbiao, who's also director of the mental health promotion center under the Institute of Psychology at the Chinese Academy of Sciences, has discovered that the growing popularity of social media is also adding to the pressure on officials.
"As the Internet develops and social media sites become increasingly popular, micro blogs and other forms of social media have become important methods of fighting the abuse of power and ensuring greater transparency. Media supervision has been greatly increased and officials face a greater level of scrutiny than ever before, in both their working and private lives," he said.
Meanwhile, a decline in public trust in officials and government institutions has led many officials to question the value of their work and resulted in low levels of job satisfaction. Many struggle to find any meaning in their lives, added Shi.
Relationships play an important role in all levels of Chinese society and public servants are no exception. "Of course, ability at work is important for promotion, but relationships also play a vital role. Many people believe that hard work is the key to promotion, but severe competition makes many feel dispirited," said Liu Qinglong, professor of sociology of Tsinghua University.
Intense scrutiny
When depressed, people go to extremes and are more prone to suicide. Su Li, a senior official in Shaoguan, Guangdong province, hanged himself at home in February. A preliminary investigation suggested that depression, caused by the heavy pressure of work, was a contributory factor in his suicide.
Tong Zhaohong, vice-president at Zhejiang provincial Higher People's Court, hanged himself in 2010.
"I have had depression for several months. The torture is unbearable. I have all lost confidence," he wrote in a suicide note.
However, in some cases, the word "depression" may mask other factors that could prompt officials to take their own lives, according to Liu Qinglong.
"We cannot rule out the possibility that depression has caused some officials to commit suicide. However, it's not the cause of all. Depression is often cited as the main motive, because it can be easily accepted by family members and work colleagues," said Liu.
The level of scrutiny under which public servants work may also be a factor. Experts have called for the introduction and enforcement of harsh anti-corruption measures. But these can cause friction and a sense of being hounded in some individuals. The experts say that although psychological profiling of applicants is mandatory, a psychological crisis intervention mechanism for public servants should be introduced to ensure that problems can be discussed and remedied.
Public servants are also just regular people and society should foster a more tolerant attitude toward mental health issues to encourage stressed officials to ask for help, said Li of the Beijing Suicide Research and Prevention Center. Hotlines and Web consultancies may encourage them to seek help anonymously.
Education has a part to play, too. Although most officials have been educated to a high level, the scope of their studies tends to be limited to their specialist subject. Few have studied psychology to any great degree and it's now essential that officials gain a deeper understanding of the subject, she added.
More important, the sources of the psychological pressures on officials are different from those affecting other people, but there are not enough trained staff to meet the demand. More staff with specialist training are needed, Shi Zhanbiao said.
Meanwhile, public servants need to realize that work is not the only thing in life: "Officials should lower their expectations regarding promotion, and try to seek recognition in other fields, such as research, the arts and literature," suggested psychiatrist Zhao Junyan.
Playing more sports, eating healthily and spending more time lying in the sun are good ways of reducing stress. Support from family and friends can also play an important role in the recovery of depressed patients, she added.
Contact the writer at hena@chinadaily.com.cn
Zhang Yuchen and Mo Jingxi contributed to this story.