Local authorities are vying to be awarded the title 'Home of Longevity', report Xu Wei in Chongqing and He Dan in Beijing.
The quest for longevity is beyond race and time. Humankind has been searching for ways of lengthening the natural span for eons, but for a large number of centenarians across China, the extension of life appears to have been gained easily and even unintentionally.
At 110 years of age, Xu Yuanshu maintains her lifelong habit of making insoles for her family. Sitting on an old couch in a mud-brick dwelling, she can still thread a needle with ease and stitch the hard paper framework of the handmade insoles with minimal effort. She also regularly feeds the family's livestock and husks freshly harvested corn.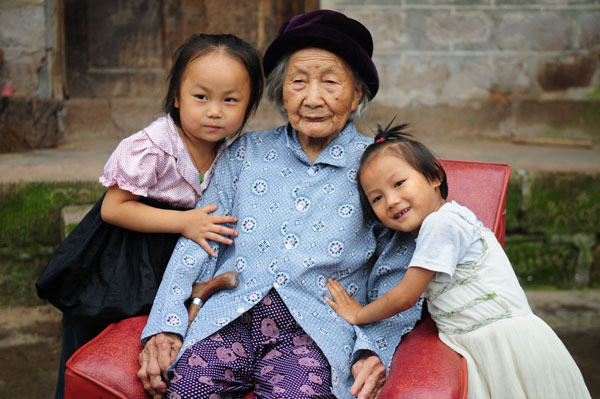 Xu Yuanshu, aged 110, photographed with her two great-granddaughters in Chongqing's Jiangjin district on July 4. Yang Hua / for China Daily
Xu's village, in the Jiangjin district of Southwest China's Chongqing, is still a remote place, connected to the outside world by a series of uneven mud roads that can be impassable in winter. Drinking water comes from local mountain springs.
The elderly woman is typical of the estimated 48,000 centenarians across China, 90 percent of whom live in secluded, rural areas and who enjoy a relatively low standard of living, according to Zhao Baohua, deputy president of the Gerontological Society of China.
"Our statistics show that the percentage of centenarians is higher in these less well-off areas. Many centenarians live a poor life, in purely economic terms, with badly furnished houses and few everyday necessities. However, it's important to realize that they live poor, but happy lives," he said.
In 2006, the Gerontological Society began identifying the counties and districts where people have markedly longer lives than the norm, and awarded the title "Home of Longevity in China" to those that meet its criteria.
One of the key qualifications is that at least seven out of every 100,000 residents must be centenarians, and that those aged 80 or older must account for at least 1.4 percent of the local population.
Meanwhile, average life-expectancy must be three years higher than the national average, which was 71.4 years when the campaign was launched, although that figure had risen to 74.83 years for both sexes by August of this year, according to National Bureau of Statistics census data.
By August, 28 counties and districts nationwide had been identified as homes of longevity, including Xu's district in Chongqing.
Zhao was involved in the certification of almost every one of the 40-plus counties and districts that applied for the coveted title. During his work, he noticed a number of similarities between location and the centenarians.
"While the degree of economic prosperity of an area could increase life expectancy, it was not directly related to the number of centenarians in that area," he said.
Simple, but longer life
The demographic ratio of centenarians of China is still far below that in the United States, which had 71,991 - the largest number anywhere in the world - as of December 2010, according to the US Census Bureau in March 2011. The population of the US was roughly 314.30 million at the start of this month. The US Census Bureau has predicted that the number of centenarians will rise to 601,000 by 2050.
Meanwhile in China, most of those aged 100 years or older are concentrated in a number of specific regions, according to Wang Wuyi, who conducts research into environment and health at the Chinese Academy of Sciences.
Zhao noted four factors that contributed to the longevity of Chinese centenarians: A positive mental state; good family relationships; sensible dietary habits; and an affinity for hard work.