Putting the stress on longevity
Updated: 2012-08-08 07:01
By Sl Luo(HK Edition)
| | | | | | | | | |
| --- | --- | --- | --- | --- | --- | --- | --- | --- |
|   | | Print | | Mail | | Large Medium  Small | 分享按钮 | 0 |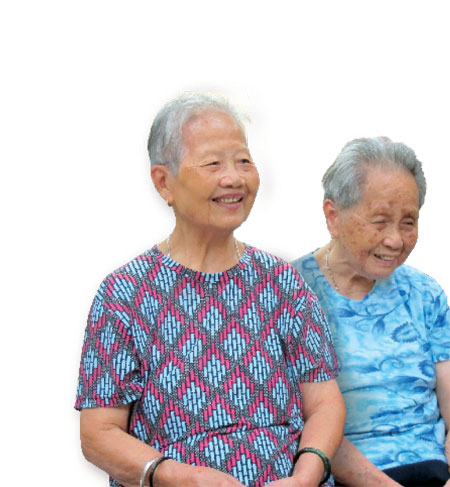 Koo (left) and Yim are hard-core optimists, believing that keeping themselves free of depression or worries, plus adopting an 'open' attitude in life may be among the biggest secrets of their longevity. Provided to China Daily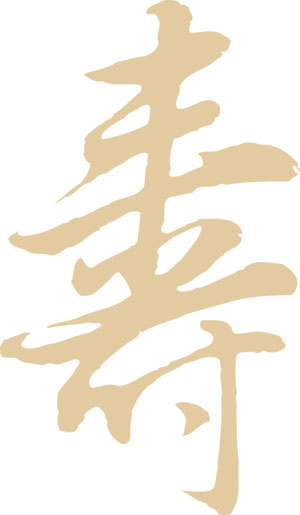 Recently we learned Hong Kong's women have nudged out their Japanese counterparts as the world's longest living, with an average life expectancy of 86.7 years. As of last year, there were 1,371 female centenarians in Hong Kong - possibly another world record. The revelations perplex many, given the fact that Hong Kong remains one of the most stressful urban environments on earth. Sl Luo reports.
Madam Yim, 92, and Madam Koo, 89, are poised to join the ranks of Hong Kong's exclusive "centenarians club," convinced that their health will be no deterrent.
Wheelchairs and crutches are not in their lexicon. Each can handle a brisk walk, even trudge up a flight of stairs unaided, like any other person - 40 to 50 years their junior.
The two hail from the same Huadu district of Guangzhou, Guangdong province. They have been living in Hong Kong and known each other since Britain's Queen Elizabeth began her reign, sharing the same vision with open and optimistic minds, which they say takes some credit for their long lives.
Yim and Koo are role models for Hong Kong's elderly, leading healthy, unblemished lifestyles and helping to lend credence and honor to the latest declaration by Japan that its women have been ousted by their Hong Kong counterparts as the world's longest living. It's the first time since 1985 that Japanese women have lost the longevity crown worldwide.
According to the annual report by Tokyo's health ministry, the expected lifespan for Japanese women fell to 85.9 years in 2011 from 86.3 the previous year, while the life expectancy for Japanese men also slipped slightly, from 79.55 to 79.44 years.
On the other hand, it says the expected lifespan for Hong Kong women last year was 86.7 years.
The report didn't provide many reasons for the shift. It cited Japan's high suicide rate and the devastating earthquake and tsunami in 2011 that killed tens of thousands, as contributing factors.
Many were taken aback by the revelations, especially given Hong Kong's reputation as a city running at a frenetic pace, making it one of the most stressful and tense metropolises on earth.
Life expectancy is described as the average number of years lived by a person or group of contemporaries born roughly at the same time. It is also a measure of the overall quality of life and the mortality rate for all ages.
In Hong Kong, medical evidence also points to a rapidly ascending rate of heart-related illnesses arising from obesity among both sexes even in the 20s bracket.
I had been dubious about the latest official Japanese assertions at their word. I felt perplexed, like many others and tried to seek scientifically-backed answers as far as possible.
I decided to initiate a dialogue with a prominent, local geriatrician on the subject, but still came away only half-convinced that tiny Hong Kong has clinched the accolade for producing the world's longest-lived women.
Hong Kong and Glasgow-educated Dr Paul Shea Ming-tat brushed aside all arguments that hyper-tense Hong Kong is least likely to have long-living people, let alone topping the globe in terms of longevity and putting former title holders like Switzerland, Iceland, Monaco or Surinam to shame.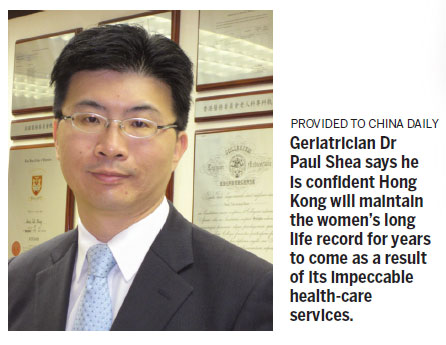 His points were down to earth, singling out the city's impeccable medical and health-care services, easy availability of high-nutritional food, plus a highly efficient sewage system.
"Hong Kong is a global transportation hub, ensuring we get all kinds of high-nutrition food from all over the world. Therefore, we tend to live longer. Yes, 90 percent of the population may be poor, but they always have good things to eat, providing adequate energy input," says Shea.
"Hong Kong people also have easy access to first-class medical services. Within 15 minutes or so, any person indisposed can be admitted to any hospital because of our compact and closely-knit society. No other place in the world can do that.
"Everyone too gets equal medical treatment. This sharply cuts down on the fatalities or infections arising from illnesses. Our sewage system is also one of the most advanced in the world and this effectively curbs the potential spread of diseases, especially during a major outbreak," he argues.
Shea dismisses the common notion that stress, tension and pollution, for which Hong Kong is well known, is lethal to most people.
"Stress is not a big factor. It really depends on one's personality. Besides, research has shown that Chinese, Koreans and Japanese people have a body mass index of between 23 and 27, indicating they live the longest."
And why do women generally outlive men? How valid is the common Chinese mentality of adopting an optimistic approach in life, being less stressful, having sufficient sleep, less sex and a balanced diet, and no lighting up?
Shea believes these arguments may be valid to a certain extent, but have yet to be medically established.
"Women also have female hormone protection in addition to the fact that they're less tense than males and, therefore, more relaxed," says Shea.
I am not surprised with the Japanese assessment at all. I too expect to see an increase in the number of older women in the next two or three decades. In Hong Kong, during the 1950s and 1970s, young people here had good food, and likely to live longer well into their 70s or 80s," he adds.
Latest figures from the Census and Statistics Department show that the number of Hong Kong females aged 100 and above went up from 572 in 2001 to 1,152 in 2006 and to 1,371 last year, more than double in a decade.
The total number of female octogenarians (aged 80-89) also rose dramatically, from 70,963 in 2001 to 118,263 last year, a surge of almost 70-percent.
The increase in the total number of male centenarians, though much less than that of female centenarians, is equally conspicuous showing more than a four-fold rise to 519 last year from only 125 in 2001.
The life expectancy at birth of men in Hong Kong has gone up steadily from 72.3 years in 1981 to 80 in 2010.
According to a news report in 2010, a Hong Kong woman born in 1893 during the Qing Dynasty had celebrated her 117th birthday, which would have made her the world's oldest female, dethroning Japan's oldest woman by more than two years and four months.
The woman, surnamed Cheung, reportedly had to be fed liquid food as she was no longer able to chew. If she still lives, she would almost certainly be the oldest member of the "centenarians club".
If the new Hong Kong population projections are anything to go by, the city will reach 8.47 million by mid-2041. Life expectancy is forecast to climb further to 84.4 years for males and 90.8 years for females in the next three decades.
The aging trend will persist as a result of the city's low fertility and mortality rates, with the percentage of senior citizens and above rising from 13 percent in 2011 to 30 percent by 2041. As for the gender ratio, there would be 712 men for every 1,000 women by 2041.
Yim and Koo, meanwhile, will help keep the flag of the "centenarians club" flying.
Asked whether she would like to go on for another 10 or even 20 years, Yim smilingly responded with guarded optimism.
"I'm still very happy with life, looking after myself without any support," says Yim, who has no children from one marriage.
As for the secrets of her longevity, she admits to having a moderately controlled diet, avoiding too fatty or salty foods which she says would drive up her blood pressure and cholesterol.
Like Yim, Koo told China Daily she also has no children to depend on for the rest of her life, and lives with Yim for companionship.
The two go to bed at about 9 each evening and rise at 4 am to go for their morning stroll in a Wong Tai Sin park.
"I'm living life to the fullest. I always adopt an open attitude toward life and I've gained a lot because I've lived for so long, says Koo, who retired 19 years ago as a school laboratory assistant and now has to rely on the dole after having dried up all her savings.
"Yim and I ought to be very satisfied and happy for what heaven has given us up right up to this stage. We ask for nothing and we will eventually leave with nothing," she says.
You may contact the writer through theam@chinadailyhk.com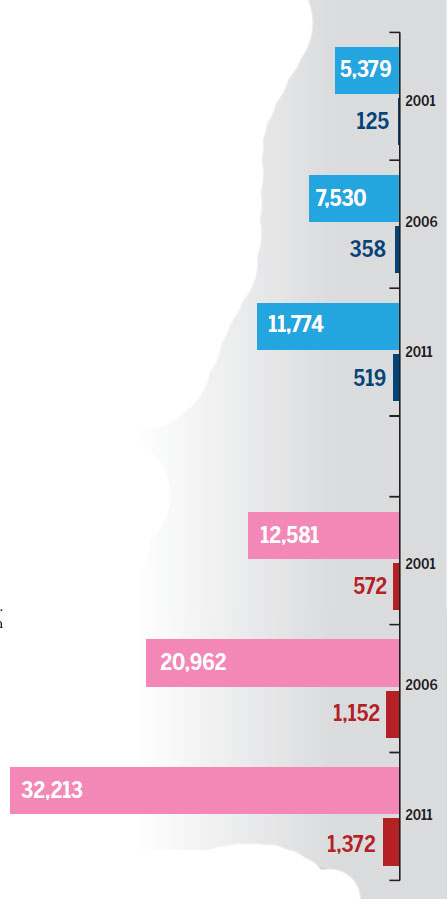 (HK Edition 08/08/2012 page4)