Social enterprises are a new phenomenon in China, but they are helping the poor regain their dignity. Jiang Xueqing reports from Chengdu and Qionglai in Sichuan province.
Yan Junhui was visiting Wenchuan in Sichuan province in 2008, when she first hit on the idea of turning traditional Qiang-style embroidery into a prosperous business. However, she hardly expected that she would eventually give up her work in the cultural and creative industries to become a social entrepreneur.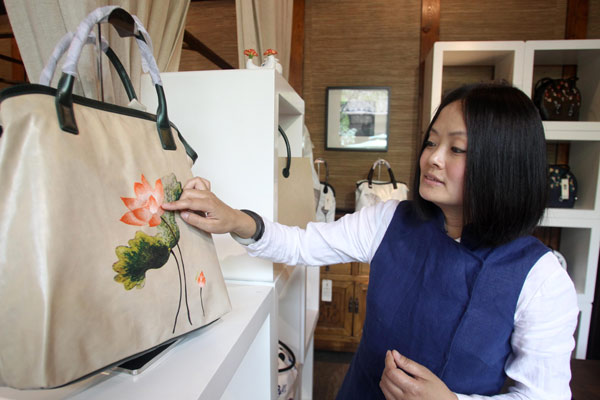 Yan Junhui, who founded the Employment Help Center for Qiang Women in Aba Tibetan and Qiang autonomous prefecture, displays lifestyle products embroidered by Qiang women from Sichuan province.
At the time, Yan had not even heard of social enterprises, businesses that address social needs and apply commercial strategies to help those in need rather than simply maximizing shareholder profits. Her ignorance of the subject was excusable, though: It's only recently that a growing number of people involved in NGOs and researchers have realized that social enterprises can provide more efficient models to solve social problems than traditional nonprofit organizations.
Yan's life as a social entrepreneur started with the Qiang ethnic group in Sichuan, often known as "the people above the clouds". By the end of 2010, about 166,000 of them were living in the mountains that rise more than 2,000 meters above sea level in the Aba Tibetan and Qiang autonomous prefecture of northwestern Sichuan, and almost every woman aged 40 or older was skilled in the art of brightly colored embroidery.
Sichuan earthquake
Following the devastating 8.0-magnitude earthquake in May 2008, Yan founded an independent nonprofit organization called the Employment Help Center for Qiang Women in Aba Tibetan and Qiang autonomous prefecture with the help of the One Foundation, a philanthropic organization established by the movie star Jet Li.
The foundation used its connections to find group-purchase orders while the center hired designers to produce patterns that were sent on to the Qiang women to embroider. The finished articles were then sent to partner factories for manufacture.
At the beginning, the women could only make low-end products such as wallets for bank cards, but customers rarely complained about the poor quality because they considered their purchases acts of charity. However, the lack of quality control meant that 30 percent of the pieces were deemed unsellable and thrown away.
To improve the women's skills, the center opened a training school in 2009. The teachers - usually experts in Qiang-style embroidery - began with the basics, instructing the students to wash their hands before work, and gradually progressed to teaching 16 different styles of needlework, pattern design and color arrangement. Roughly 10,000 women have been trained so far, greatly improving the quality of the work and resulting in a dramatic decline in the failure rate, with only around 1 percent of the finished articles now being discarded.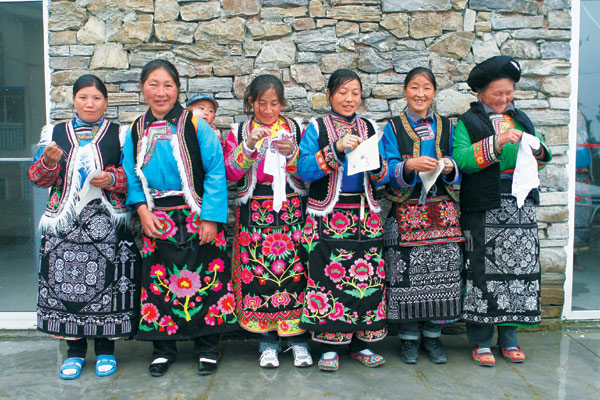 Women from the Qiang ethnic group attend an embroidery workshop in Muti village, Nanbao township in Qionglai, Sichuan province. Photos by Feng Yongbin / China Daily
Group orders decline
However, two years after the earthquake, the group orders plummeted by 80 to 90 percent as memories faded and people forgot about those whose lives had been ruined. The center's two-year contract with the foundation also ended in 2010 and lacking financial support, the center couldn't even afford to pay its employees.
"We started the project in the belief that Qiang embroidery could be developed into beautiful products for sale," Yan reminded her colleagues at the center."How come we ended up selling our products on the back of people's sympathy? Why can't we achieve our original goal with full confidence in our goods?"
The center then decided to become self-reliant. Yan stopped seeking financial help from foundations and began supporting the center with her own money. She and her colleagues devoted their energy to product development and exploring sales models. Now, they present an annual development plan to their group-purchase customers offering them a range of designs. For example, Lenovo Group, one of the world's largest computer manufacturers, has spent more than 2 million yuan ($314,000) on the center's products - mainly cases for laptops and pens - every year since 2008.
The center also registered Wenchuan Wenjin Qiang Ethnic Embroidery Co, which has its own brand, Fingertip Arts. In February 2011, a flagship store was opened in Kuan Alley, a popular tourist attraction in Chengdu, Sichuan province, as a showcase for the company's products, including handbags, scarves and home furnishings.
The store, which has annual operating costs and rent of 2 million yuan, has attracted a growing number of customers, and the company broke even in 2011 with sales revenue hitting more than 10 million yuan. The store contributed 6 million yuan, and the rest came from group purchases. In the same year, Wenchuan Wenjin launched a Web store on Taobao, one of the largest online marketplaces in China. So far, more than 8,500 women have joined the embroidery project and their combined salaries total more than 5.2 million yuan.
Surveys conducted regularly by Yan and her colleagues found that at least 90 percent of their customers approved of their products and the efforts they'd made to help others. The project has helped many women living in the mountainous areas to find jobs without leaving home. They can undertake embroidery in their spare time, while still doing farm work and taking care of their family and can continue their rural existence, meaning that they are shielded from the sort of culture shock that affects many migrant workers.
The project has also helped to preserve and pass on Qiang embroidery techniques to younger generations, with the result that women in their 20s and 30s have mastered the traditional skills that were once the preserve of much older women.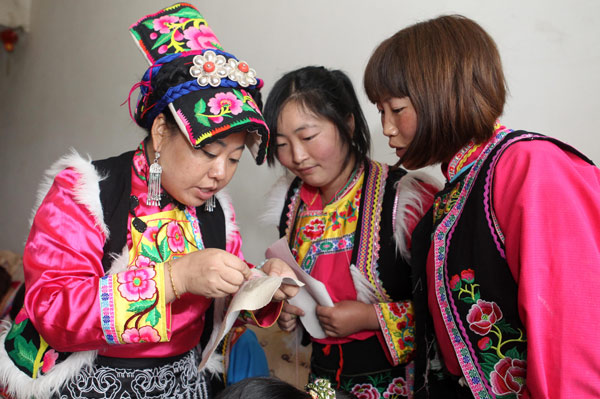 Xu Min(left) teaches needlework to women from Qiang ethnic group in Aba Tibetan and Qiang atutonomous prefecture, Sichuan province. Xu works with a group taht helps sell their embroidery. Feng Yongbin/China Daily
Value versus profit
"Social enterprises are different from regular businesses from the starting point," said Zhou Weiyan, dean of the institute of social innovation at Beijing Normal University. "Social entrepreneurs choose between maximizing profits and social value. This is very challenging. They can't simply create and stimulate demand for their products, and also they have to identify social problems that require correction - mainly issues related to livelihood, disadvantaged groups, environment and ecology."
Before the earthquake, the farmers' average salary in Aba was less than 2 yuan an hour, but Yan's center originally set the embroiderers' hourly rate at 3 yuan, later raising it to 6 or 8 yuan. Embroiderers are divided into three levels, with the least skillful earning 20 to 25 yuan a day while a senior-level embroider makes 50 to 60 yuan, about 1,200 yuan a month.
That's a considerable sum by local standards. In Maoxian county, the average annual family income is slightly more than 1,000 yuan, according to Xu Min, a skilled embroiderer who teaches at the center's training school.
Xu has two sons - one attends junior high school and the other is in kindergarten. Both live with her husband's parents while Xu travels around Sichuan teaching embroidery. Her husband has moved to Mongolia to work as a carpenter on a construction site, but the contract has not started yet, so Xu has to cover the family's expenses with her monthly 2,000 yuan salary.
Describing herself as "someone who can endure extreme hardship", Xu regularly worked at least 14 hours a day at an embroidery factory in Maoxian county before the earthquake, making 1,200 yuan a month at most.
"Thanks to the Qiang embroidery project, I became the backbone of my family. Last year, we spent 80,000 yuan on home design and furniture. All the money came from my own pocket," she said proudly. "Now, my parents-in-law are more willing to listen to me and agree with me. I feel that my status both in and outside the family has greatly improved, as has my self-esteem."
Although social enterprises are still at a primary stage in China, their future is bright according to some NGO experts and even entrepreneurs, who believe the era of simply pursuing profits will pass as society matures. More people will think about the social problems they'd previously ignored when they reach a certain phase in their lives, according to Yan.
A practical impact
Compared with traditional NGOs, social enterprises will have a more practical impact on society, she added. NGOs rely on donations, so they have to spend a lot of time and human resources looking for funding and courting publicity, making them less concentrated on their projects.
"The ability to run a successful business is very important for a social enterprise," said Zhou of Beijing Normal University. "If you have acquired business skills, it's easier for you to become a social entrepreneur as long as your heart is inclined toward public welfare."
She's currently looking for people who have ability and business experience and also have given some thought to social responsibility, and plans to help them catalyze social enterprises. This year, she will set up a venture-philanthropy fund of more than 100 million yuan, select four or five proposals from 400 potential social enterprises, and provide financial support and technical instruction. By setting a number of good examples, she hopes the government will produce policies to the long-term benefit of social enterprises.
"It's possible that a social enterprise we cultivate will go out of control and end up in a scandal like Guo Meimei (a 20-year-old who claimed untruthfully to work for the Red Cross Society of China and whose boasts of an opulent lifestyle caused a credibility crisis for the organization), but that's not important," she said. "Once people start sailing towards social entrepreneurship, some people may fall overboard or get off the boat. But, what's really important is that we have a growing number of passengers and the boat is getting bigger and bigger."
Contact the reporter at jiangxueqing@chinadaily.com.cn