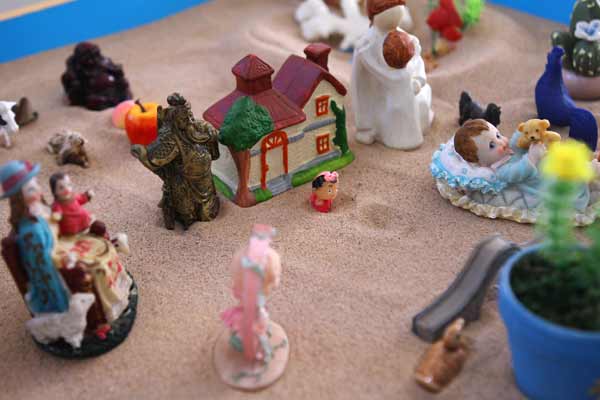 A sandbox and varied figurines at Beijing's Chaoyang Sunshine Halfway House help give expression to convicts who were recently released or are serving sentences in the community. Photos by Zou Hong / China Daily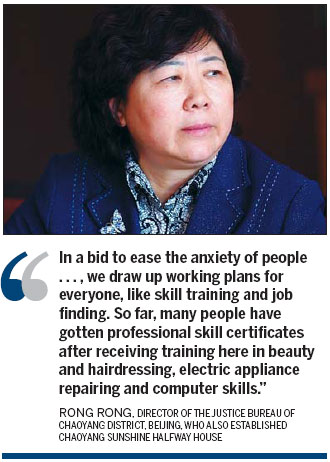 Experiment provides opportunities to re-enter society, He Na reports.
Zhang Mengxu from Yunnan province was released from prison in September 2009 after serving 18 months for robbery. He had no job skills.
The following year he was arrested on more than 20 charges of fraud, robbery and burglary involving more than 90,000 yuan ($14,250).
China's Criminal Law, which took effect in 1997, has clear rules for recidivists, or repeat offenders. Briefly, Article 65 says that if someone commits a crime within five years of serving a prior sentence they face a heavier sentence.
And that's what Zhang, 28, got. He was sentenced recently to 11 years in prison.
In a similar case in Chong-qing, a Mr Hu was released from prison for theft and, two months later, was caught with 300 yuan stolen from a woman's purse.
As a repeat offender, Hu faces a more severe punishment. He is 44, regrets what he did but it is too late.
China has experienced a rapid increase in recommitment of released prisoners and of major crimes committed by ex-convicts. The Ministry of Justice did not have supporting data, but experts all agreed on the trend and its impacts.
"Recommitment is an important threat to social stability, which not only can cause social panic but also wastes the enforcement costs to society," said Rong Rong, director of the Justice Bureau of Chaoyang District, Beijing. "How to reduce recommitment and settle them down are tough tasks on the top of our working agenda."
Rong established China's first community correction institution, Chaoyang Sunshine Halfway House. It provides legal education, counseling, skills training, employment guidance and temporary room and board to prisoners who have been released or are serving sentences in the communities.
Justice Ministry data show that China has 678 prisons and 1.65 million people serving sentences in them. In 2010, more than 390,000 inmates were released and 599,000 people were receiving community correction.
Experts warned that those two groups tend to be both depressed and impetuous, putting them at particular risk of violating regulations and laws. Re-educating and resettling them, and reducing their return to prison, are vital to social order and stability, they said.
Failures in freedom
Experts cite three key reasons that criminals who have served their time end up back in prison: longtime isolation, feelings of inferiority and social bias, and their low levels of education and skills.
"The majority of prisoners newly released will encounter a hard period of adapting to the free lifestyle from prison management," said Yan Jin, a senior psychotherapist at Beijing Adolescent Law and Psychology Advising Center. "Due to their longtime isolation from society, they generally need some transitional period to get accustomed to the changes."
Wang Qiang was imprisoned 20 years for manslaughter. "Prison time took me from a young man to an old, useless guy," he said. "During the first few days after I was released last year, I thought I had traveled from another planet. Things I had learned before were outdated and, to be frank, I cannot fully understand many young people's words.
"In many situations I felt like an idiot," Wang said, "and after many failures at finding a job, I even thought that maybe prison was more suitable for me."
Most people in his position are ashamed of their criminal records, Yan said, "but society still has bias. They inevitably meet difficulties in job hunting and getting back to society. Almost all of them develop a great inferiority complex and anxiety."
"I've already paid a high price for my faults," said Yu Yang, who is serving probation for operating a business beyond the scope of its license. "Why are people still discussing me behind my back? Some neighbors, even in front of me, tell their children things like, 'If you don't study hard, you will be like your auntie and be a prisoner."
"Except for those who committed crimes of corruption and taking advantage of position," Rong said, "the majority of released prisoners have a lower education level and lack skills. Nowadays, even university graduates are hard-put to find jobs, let alone them, the ex-convicts.
"The situation is worse for those who experienced divorce or whose parents passed away, or their homes were relocated or demolished while they were in prison," Rong said. "They are facing many cruel facts when they are released, for they don't have a place to live and they worry about where the next meal will come from. They are generally vulnerable to new crimes."
Improving the odds
Sunshine Halfway House, a gray, three-story building, sits at the side of the Beijing-Tianjin Expressway in Heizhuanghu, Chaoyang district. It opened in July 2008.
"More than 1,100 people with criminal records have received help from the center - and none of them has committed new crimes," said Liu Yong, deputy director of the Chaoyang Justice Bureau.
"In our building we all call them students. We want them to feel our respect. There are no policemen, officials or psychologists here, just their friends," he said.
The left side of the first floor is a relaxing counseling area.
"These people often have great psychological pressure. They need a place to vent the pressure, or else they will feel cornered," Liu said
In one room, five women sat in a circle around a small sandbox. Wall shelves held countless small toys and models. It is more like a room for kids.
Wang Jing, who received probation for fraud, picked up several animal figures - cow, sheep, dolphin and an angel with the head of a lion - and put them in the left corner of the sandbox.
"From the gadgets you chose and the place you located them, I could tell you are still very childish. You feel you received unfair treatment and want to seek justice," said Yan Jin, who volunteers to provide psychological counseling.
The 22-year-old woman's face turned red, and she nodded.
"I am doing very well at school - my performance and thesis both got high marks - and I am good-looking," said Wang, who just graduated from university. "It's unfair that no good companies want to hire me just because I have a criminal record."
Yan said Wang's expectations are too high and she doesn't face the truth that she committed a crime.
"What we can do to help is first to listen to her carefully to give her the chance to vent the anger, and then teach her how to review the injustices of society," Yan said.
'Not abandoned'
Besides the counseling, the halfway house provides something basic the "students" need - a transition period before they re-enter society and a warning of what they might face.
"Five years in the prison sounds like century to me, and I was counting the days until I would be released," said Li Xiang, 51, who finished his term for robbery on Nov 18. "When I was in prison, I drew a very good picture for my future: I want to earn a lot of money to compensate my wife and daughter."
During his training at the halfway house, he said, "I heard many people like me talk about their experiences in job hunting . . . and how others looked down on them. Their words were like putting cold water on fire. I hadn't expected that so many difficulties were ahead. But it is better to know them earlier."
Rong said, "In a bid to ease the anxiety of people like Li, we draw up working plans for everyone, like skill training and job finding. So far, many people have gotten professional skill certificates after receiving training here in beauty and hairdressing, electric appliance repairing and computer skills.
"Our work staff also sleep and have meals with them," she said. "We want them to know that society has not abandoned them."
So far the halfway house has helped 962 people obtain subsidies from the Red Cross Society of China, 206 find stable jobs and 134 qualify for low-rent public housing.
"To hear that these people got stable jobs and live happily with their families is the best news to us," Rong said.
Good reviews
Justice Minister Wu Yingai has attached great importance to the resettlement of released prisoners and people receiving community correction. When she visited the halfway house in June, she said she hoped that the recidivism rate for people serving sentences in the community could be held at the then-current 0.2 percent.
Zhou Yongkang, a member of the Standing Committee of the Political Bureau of the CPC Central Committee, also rated high the achievements of the halfway house. When he inspected it in November 2010, he said the psychological counseling and skills training the center provides prepare its clients well to return to society.
China employs three ways of resettling released and community prisoners:
* The central government encourages enterprises to provide jobs, in return for preferential taxation.
* Prisons and rehabilitation centers are used as transitional resettlement bases.
* Halfway houses are established. Their main revenue comes from government subsidies, but society donations also provide a share. Experts say this government-plus-society model is practical and a good step in reforming China's penal system, and that it should be promoted broadly.
Hoping for tolerance
On a Wednesday afternoon, Chaoyang Sunshine Halfway House organized a contest among its "students" to teach them about the laws and potential penalties that apply to their situation. It took the work staff more than half an hour to get all 12 people seated.
People found various kinds of excuses for not sitting in front: "I'm too old to remember anything." "I'm waiting for an important phone call."
"We're used to the situation," staff member Li Bo said. "But I am sure they will volunteer to cooperate after they stay with us for several days and learn we are offering help sincerely. No one will refuse a smile, right?
"I do hope the whole society will be more tolerant of these people," she said. "Reducing recommitment is a huge, complicated social work; it needs the combined efforts of families and the entire society.
"As long as these people received punishment and revised their faults, please give them a chance."
Write the reporter at hena@chinadaily.com.cn.

(China Daily 01/12/2012 page1)