Officials hope revolutionary approach will disarm critics and put city streets ahead in social planning, Hu Yinan reports in Chongqing.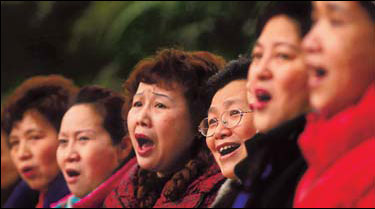 Residents in Chongqing sing revolutionary songs at Shaping Park on Feb 18. [Photo/China Daily]
Tang Jianghua, 25, has been living in China's largest and most populous municipality for six years. But with a monthly income of 1,700 yuan ($259), the rural migrant worker can only dream of owning an apartment in Chongqing. On average, residential property costs 5,700 yuan per square meter.
But Tang has his fingers crossed, because he is a qualified applicant in an unprecedented city plan to improve housing for millions like him. On Wednesday, a lottery will allocate thousands of public-rent apartments, the first batch in a citywide endeavor to promote public housing.
More than 67,000 will be ready for occupancy by November; about 10 percent are ready now. City officials declined to say Monday afternoon how many would be awarded. Applications were far fewer than anticipated.
Related readings:


 Chongqing cabbies required to speak Putonghua


 Application for public-rent apartments starts in Chongqing


 Red song concert held in Jinan
The public housing program is the latest in a series of high-profile and ideologically driven policies Chongqing has drafted to - in the words of local publicity officials - redistribute its social resources to "help the poor and guide the rich".
This broad social experiment includes granting Chongqing hukou (urban residence) to 3 million farmers by 2012 (10 million altogether by 2020). The plan also hopes to provide 800,000 families with public rental housing by 2015, and establish an information technology cluster through cooperation with HP and Cisco.
Apart from these objectives, the police force have been streamlined amid a clampdown against the city's notorious gangs and corrupt officials who provided them shelter.
Supporters have dubbed this mode of development, which stresses meeting the needs of the city's growing consumer market, the "Chongqing model". Some scholars see it as an alternative to the late 1970s' "Shenzhen model", which relies more on export and labor-intensive industries.
The lottery for affordable housing on Wednesday - an event that is to be aired live on local television - will again bring Chongqing back under the spotlight.
Outside the megacity, its experiments have drawn as many boos as woo-hoos.
The most controversial effort at transforming the municipality is in the cultural sphere, where publicity officers have been promoting a so-called "sing, read, tell and forward" campaign since summer 2008. Students, teachers, retirees and public servants are frequently assembled to sing "red songs", which Xinhua says are songs "composed to compliment the Communist Party of China's leadership in the revolution and struggle to found the People's Republic of China".
The campaign also incorporates telling revolutionary stories, forwarding quotes from famous figures on mobile phones, and reading classics (which are mandatory material for all government personnel) picked by the local publicity department and Southwest University and published monthly in pocket-sized format.
Both the implementation and observations of the campaign have been ideologically fueled and interpreted. It has reached the point that Chongqing - China's wartime capital (1938-1945) and the last major city the People's Liberation Army seized in late November 1949, a month after the founding of the PRC - is now referred to in some media and academic circles as the "red capital".
Criticism is intense, especially from outside China. Eminent Chinese-American historian Yu Ying-shih says outsiders "perceive (Chongqing's campaign) as a revival of the 'cultural revolution' (1966-1976)". People in the opposite camp include Xiang Guanqi, director of the China studies department at Heidelberg University in Germany. He hails the experiments in Chongqing as being "on the right track, in the correct direction and tremendously symbolic".
'The human spirit'
Wang Heqing, deputy publicity chief of Chongqing and a top executor of the campaign, said he recently developed "a fresh understanding of our campaign" and stressed that the efforts stem from practical concerns.
"Lives of nations are determined not by the count of years, but by the lifetime of the human spirit . . . The life of a nation is the fullness of the measure of its will to live." Here Wang was reciting excerpts from the third inaugural address, in 1941, of US President Franklin Delano Roosevelt - which is among the classics his department compiled.
Chongqing's cultural campaign is a way to collectively cultivate precisely that human spirit in "a market economy where everyone looks out for and only for themselves and nothing other than riots can bring them together, especially in failed states," Wang told China Daily.
All the chosen classics - works ranging from I Ching, The Analects of Confucius and revolutionary poems by the PRC's founding fathers to Hamlet to the United States' Declaration of Independence and the Gettysburg Address - are "in line with China's core value systems", he said. "This is no political movement, but something that everyone could benefit from, one that seeks to help everybody truly live their lives."
In January, Chongqing Satellite Television Channel replaced prime-time sitcoms with revolutionary programs in a bid to "restore red morals". The programs include "red classics" and fresh productions reflecting well-known domestic figures - mostly from the Chinese Revolution - as well as foreign scientists such as Isaac Newton and Albert Einstein.
The move sparked strong backlash. Critics said the programming change violates people's freedom of choice; defenders said that public-purpose channels have a right to cut cheap advertising and vulgar programs, and the audience can always change the channel.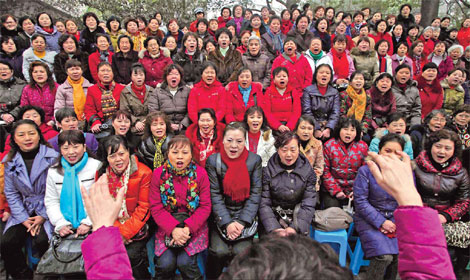 Local residents sing "red songs" in Shaping Park in Chongqing on Feb 18. What started as spontaneous attempts by aging folks to hang out together has been structured by a district department into a 90-minute morning gathering of retirees three times a week. [Photo/China Daily]