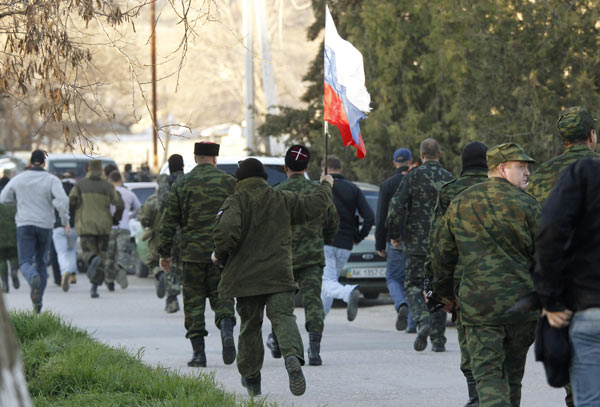 Members of pro-Russian self-defence units move in the direction of a military airbase as they attempt to take over in the Crimean town of Belbek near Sevastopol March 22, 2014. [Photo/Agencies]
NAVAL ASSETS SURRENDERED
Ukraine's naval base at Novofedorovka, near Sevastopol, was vacated after unarmed pro-Russian protesters attempted to force their way in, Ukrainian military spokesman Vladislav Seleznyov said in a Facebook post.
Russian troops also seized the flagship of the Ukrainian fleet, the Slavutich, which had been prevented from leaving port by Russian tug boats, he said, adding that Ukraine's only submarine, the Zaporizhya, had been taken by Russian forces on Friday.
There have been few casualties since Russian forces started seizing control of military facilities in Crimea, though one Ukrainian serviceman was killed and two others were wounded in a shooting in Simferopol earlier this week.
Ukraine's Defence Ministry said on Friday that Crimea's bases were still formally under its control, but most are now occupied by Russian troops and fly Russia's tricolour flag.
Firework displays on Friday in Crimea and Moscow marked Russia's formal annexation of the peninsula. But Ukrainian residents in Crimea were mostly staying behind closed doors, with some packing their bags to leave.
British Foreign Secretary William Hague said in an article posted on the website of the Telegraph newspaper on Saturday that Britain and its allies should consider imposing lasting limitations on arms sales as part of a new relationship with Russia following the "outrageous" annexation of Crimea.
"This would involve Russia being outside some international organisations, facing lasting restrictions on military cooperation and arms sales, and having less influence over the rest of Europe," Hague wrote.
During a visit on Saturday to Kiev and the eastern city of Donetsk, German Foreign Minister Frank-Walter Steinmeier praised the interim prime minister, Arseny Yatseniuk, for statements aimed at reassuring the Russian-speaking majority in eastern Ukraine.
Later, after meeting business leaders in the east, Steinmeier said he believed they backed Ukrainian unity and would oppose any attempts to split the region off.
In addition to its concerns over Crimea, Ukraine's new government has said it desperately needs cash to cover expenses including gas imports and avert a possible debt default.