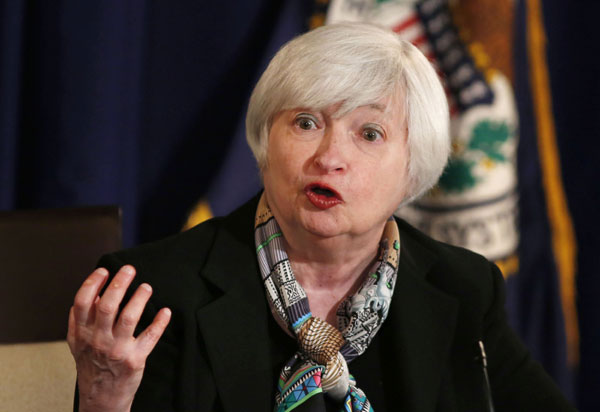 Federal Reserve Chair Janet Yellen talks at a news conference in Washington, March 19, 2014. [Photo/Agencies]
WASHINGTON - The US Federal Reserve will probably end its massive bond-buying program this fall, and could start raising interest rates around six months later, Fed Chair Janet Yellen said on Wednesday, in a comment which sent stocks and bonds tumbling.
Yellen's remarks at her first news conference as the head of the central bank pointed to a more aggressive path toward higher interest rates than many had anticipated, and bets in financial markets shifted accordingly.
The comments came after a two-day meeting in which Fed officials made another reduction in their bond-buying stimulus and decided to jettison a set of guideposts they were using to help the public anticipate when they would finally raise rates.
The Fed said the change in its rate hike guidance did not mark a shift in its intentions and that it would wait a "considerable time" after shuttering its asset purchase program before pushing borrowing costs higher.
Yellen, who had fielded numerous questions without a hitch, hesitated when asked what the Fed meant by "considerable."
"I -- I, you know, this is the kind of term it's hard to define, but, you know, it probably means something on the order of around six months or that type of thing. But, you know, it depends -- what the statement is saying is it depends what conditions are like."
Several analysts wondered whether her answer was an unintended slip, given the deliberately vague language of the Fed's statement.
Either way, the reaction in financial markets was swift and sharp. Prices for US stocks and government bonds added to earlier losses triggered by fresh Fed forecasts that showed policymakers are inclined to raise rates a bit more aggressively than they had been just a few months ago. The US dollar rose.
"The forecast change could be interpreted as a relatively hawkish shift ... and as such the general market reaction seems well-founded," said JPMorgan economist Michael Feroli.
Futures traders moved to price in a first interest rate hike as soon as April 2015. Previously, it was July.
Most top Wall Street economists, however, continued to see the first rate hike in the second half of 2015, according to a Reuters poll.
MIXED MESSAGES
Yellen sought to use her news conference to emphasize that rates would stay low for awhile and rise only gradually. She also said they could end up staying lower than normal "for some time" even after the jobless rate drops to a healthy level.
The Fed would look not only at how close inflation and unemployment are to its goals, but how fast, or slowly, those measures are approaching those goals, she said.
At 6.7 percent, the unemployment is well above the 5.2 percent to 5.6 percent range Fed officials see as in keeping with full employment. The central bank's favored inflation gauge is barely more than half of its 2.0 percent target.
The Fed has held interest rates near zero since late 2008 and has pumped more than $3 trillion into the economy with its bond purchases to try to foster a stronger recovery.