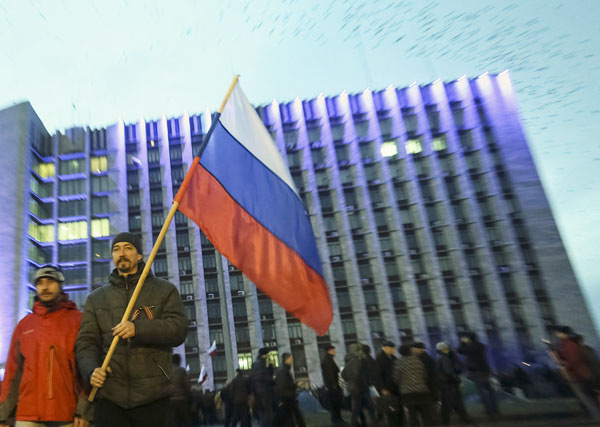 Pro-Russian demonstrators carry a Russian flag during a rally in front of a regional government building in Donetsk March 5, 2014. [Photo/Agencies]
KIEV -- Ukrainian Parliament Speaker Alexandr Turchynov signed a decree Friday, vetoing the Crimean parliament's decision to hold referendum on joining Russia.
Under the Constitution of Ukraine as well as the Constitution of the Autonomous Republic of Crimea, any regional referendum is illegal, the decree said.
The issue could be settled solely by the nationwide referendum, approved by the country' s parliament, it said.
On Thursday, the parliament of the Autonomous Republic of Crimea voted to become part of Russia. The parliament session has also set a referendum on March 16, which would ask whether the Crimean people would like to remain part of Ukraine or join Russia.
Later on Thursday, Turchynov, who is also Ukraine's acting president, described the parliament' s move as "farce" and "crime against the state" and said that the country' s parliament started legal procedures to dismiss Crimean lawmakers.
In Moscow, Sergei Naryshkin, speaker of the Russian State Duma, said Friday that Russia would respect any choice made by the Crimean people in the upcoming referendum on the autonomous republic's future status.
Tensions in Crimea, heavily populated by ethnic Russians and pro-Russian Ukrainians, flared up last week following the ouster of President Viktor Yanukovych.